Movie Review: Netflix's The Prom
As a big fan of the Broadway musical The Prom, I was beyond thrilled to hear that Ryan Murphy would be directing a film adaptation of the Tony Award nominated musical for Netflix. As an admirer of Ryan Murphy's work on Glee, I was intrigued to see what he would bring to the table in the film version of one of my all-time favorite musicals. The star- studded cast seemed too good to be true; Meryl Streep, Nicole Kidman, James Corden, Kerry Washington and Andrew Rannells were set to star in this production. I was delighted that this heart-warming musical, which once required an expensive Broadway ticket to see, would now be available for Netflix viewers across the globe. Clearly, I had very high expectations for what I thought would be a smash box success.
The Prom follows Dee Dee Allen (Meryl Streep) and Barry Glickman (James Corden), self-centered actors who received negative reviews on what they think was a brilliant performance. Determined to prove that they are "likeable", they embark on a journey to Edgewater, Indiana to help awkward teenager Emma Nolan (Jo Ellen Pellman), who made headlines after getting her high school prom cancelled because she wanted to bring her girlfriend, Alyssa Greene (Ariana DeBose). Joined by the over the top longtime Chicago chorus girl Angie Dickinson (Nicole Kidman) and Sardi's bartender Trent Oliver (Andrew Rannells), the group hops on a bus to Nowheresville in hopes of regaining their star status. They are met by a group of angry PTA mothers, including the mother of the closeted Alyssa (Kerry Washington), who are determined to forbid Emma from attending the prom, "for her own safety", of course. Through catchy tunes and fantastic choreography, the show creates a message of acceptance and love for all.
Although I enjoyed the movie, it did not live up to its tear-jerking musical counterpart. The vocal capabilities of some of the actors left much to be desired. Nicole Kidman and James Corden, though charismatic actors and performers, do not have the vocal chops of Brooks Ashmanskas and Angie Schwower, who played their roles in the musical. Another disappointment was the cut of the final verse of "You Happened". My personal favorite, this upbeat song showcases various student "prom-posals" with Emma and Alyssa sharing their joy of finally being able to go to prom together in the final verse. I'm not sure why they cut that verse, but it left the song sounding unfinished and left out a touching, intimate moment.
Despite these minor issues, there were many parts of the film which I thoroughly enjoyed! Jo Ellen Pellman did an outstanding job as Emma. A recent graduate of University of Michigan's musical theatre program, Pellman proved herself to be a true 'triple threat', with her
beautiful voice, truthful acting, and fabulous dance skills. Her spunkiness and confidence brought a different dynamic to the character which was not present in the musical. I was also pleased that they chose queer actresses to play Emma and Alyssa. Pellman and Debose brought authenticity and vulnerability to their characters which only queer actresses could bring to these roles. Another actor who stood out for me was Andrew Rannells as Trent Oliver. Despite having a smaller role in this film, Rannells made the most of his screen time with his comedic timing and strong Broadway belt. His big number, "Love Thy Neighbor", was easily the most memorable of the film, I couldn't resist singing and dancing along! Choreographer Casey Nicholaw had me floored with his "zazzy" Broadway choreography which he seamlessly transferred to the big screen.
Overall, I would recommend The Prom to anyone looking for a feel-good movie. Although it's not as good as the musical, I have no doubt that by the end audience members will find themselves dancing along on their couch!
Leave a Comment
About the Writer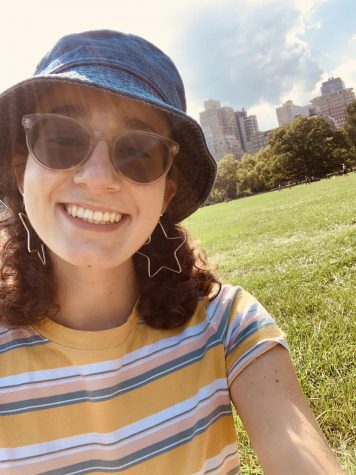 Ava Elghanayan, Campus Life Editor
Writer, Actor, Activist, Book Lover.