The Laramie Project
An Innovative John Jay Theatre Zoom Production
By Ava Elghanayan with additional reporting by Caty Galgano
2020 has been a year unlike any other. Amidst cancellations, distance learning, and Covid cases on the rise, students were unsure whether the fall drama would happen this year. Fortunately, JJHS english teachers and theatre directors, Bill Friedman and Amanda Urban, were determined to put on a production, despite the obvious challenge of not being able to rehearse in person. As theatre folk will tell you, the show must go on! Thus, it was decided that the fall drama would be a virtual production of The Laramie Project, recorded on Zoom. Urban explained that one of the main motives behind selecting The Laramie Project was because "it is a series of interviews that can easily be done digitally, as opposed to another show that would require relationships between characters."
The Laramie Project follows the aftermath of the 1998 murder of Mathew Shepard, a gay university student from Laramie, Wyoming. Written by Moises Kaufman and members of Tectonic Theater Project, the play depicts how members of the Laramie community were affected by this horrific hate crime. Over the course of a year and a half, the writers interviewed over 200 Laramie residents, some of whom were directly involved in the case.
Friedman believes the play resonates with audiences because it provokes people to think about themselves and how they feel about issues they haven't previously considered. Friedman stated, "The play is about these fissures in any community, where some people have real moral clarity, and other people haven't thought about it very deeply. And you see these breaking points, where people can maybe be moved to change. It sort of makes me optimistic that lots of attitudes that seem entrenched can change." The students involved in the production share this belief and hope the play will encourage people to act on issues about which they feel strongly.  Seneca Schwartz, JJHS junior, believes that the play will inspire change within our own community. "Combining the story with theatre and performance art can make it so inspiring and can really allow for people to change their perspectives," Schwartz said.
Despite the obvious challenges, there are several benefits to putting on a Zoom based production. Students were able to use their creativity in new ways. Urban said that "most of the elements which we would typically have for a play are not available, so that's kind of a fun challenge this year, having the cast think about what their sets should be and what their costumes should be." Additionally, for many students, this has been their first time acting on camera, providing a unique learning experience. JJHS junior, Flora Elghanayan, has found acting in this production very rewarding and said it has been "really fun to explore a different kind of acting."
As a cast member, I highly encourage everyone to watch this moving and inspiring production. Everyone involved has worked very hard under challenging circumstances. According to Friedman, "People have been really interested, well prepared, and have brought interesting things to the table. I'm impressed by the commitment to the characters."
The Laramie Project can be streamed on January 21st, 22nd, and 23rd using the links and streaming times that will be posted on klschools.org.
Leave a Comment
About the Contributor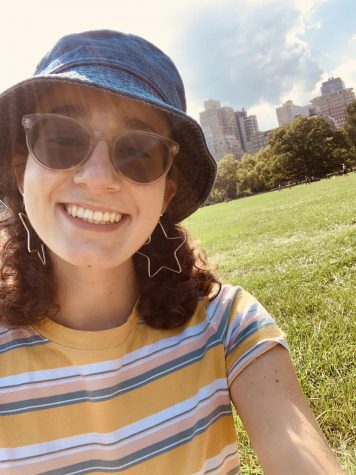 Ava Elghanayan, Campus Life Editor
Writer, Actor, Activist, Book Lover.