Come to the JJHS Science Research Symposium!
When we hear the words science research, most of us picture men and women wearing white coats working on complex scientific problems in high tech labs. While that may be true in in Sci-Fi movies and esteemed universities, much of the most impactful science research is conducted by dedicated scientists with limited resources using their vast knowledge of science to carry out innovative experiments. This includes John Jay High School's very own Science Research seniors. This hardworking group of young scientists invite you to attend their research symposium to be held over Zoom on Thursday, April 22.
The projects to be presented at the symposium are the result of three years of hard work from these perseverant seniors. The Science Research Program (SciRe) begins in sophomore year. The students spend 3 years researching a topic, eventually finding a mentor in a professional scientist, and designing and carrying out their own experiment.
At the symposium the seniors will give short presentations on their work, followed by an opportunity for questions from the audience. There will also be some games and other fun!
The projects being presented will cover a wide variety of fields including biology, chemistry, physics, engineering, medicine, environmental science and more!
Many of these student researchers obtained important results to contribute to the scientific community as well as received rewards for their work from the Regeneron Westchester Science and Engineering Fair (WESEF) back in March. Some of the WESEF winners are Eliza Wein (NOAA Taking the Pulse of the Planet Award), Grace Mango (Stockholm Junior Water Prize, 3rd place Environmental Science), Maya Schwartz (Excellence in Medical Research Award), Nathan Potash (Expanding Knowledge in Science Award), Lucas Eberhardt (Momentive Inventing Possibilities Award), Ally Edelman (4th place in Biochemistry), Quade Albert (2nd in Cellular and Molecular Biology) and, Madeleine Panek (2nd in Cellular and Molecular Biology).
Everyone is invited to attend the symposium via Zoom. If you are interested reach out to Mrs. Lipinsky, the science research teacher, at [email protected] for the Zoom link.
Many of their projects were thrown off by the coronavirus last year which closed labs and interfered with students' access to other places for research, yet all of the science research seniors were able to adapt and come up with an original and impactful research project to present at the symposium. So please come support these student researchers and hear their fascinating work. It will be fun, educational and inspiring. I hope to see you there!
Leave a Comment
About the Writer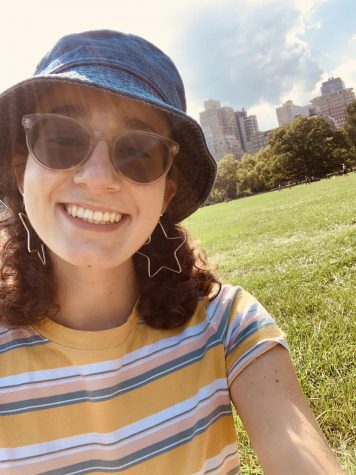 Ava Elghanayan, Campus Life Editor
Writer, Actor, Activist, Book Lover.