A Summer Staple: Rompers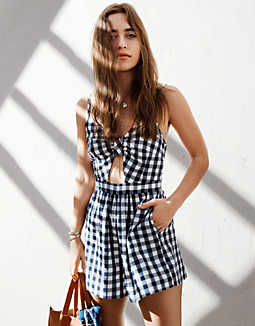 With summer quickly approaching, the trends of fashion are changing, fast. The trendy look of ripped jeans with white high tops is being replaced with patterned shorts and lace-up sandals. Comfy hoodies and long sleeves are being bumped out by soft tanks and off-the-shoulder crop tops. Along with flowy shorts, tight-fitted tanks, and Rainbows sweeping through every girl's closet, the summer staple, I believe to be, is the romper.
To my great surprise, many people are unsure as to what a romper actually is. Seeing it on someone, many think it is either a sundress or a matching shirt and short ensemble. However, rompers are none of the above. Rompers are one-piece delights that combine shorts and a shirt in one garment. Coming in all colors, patterns, and styles, I firmly believe that rompers are a summer must-have and are one of the most versatile fashion pieces out there. Whether it is a loose-fitted, off-the-shoulder long-sleeve romper or a high-neck, tighter piece, rompers come in countless styles everyone can fall in love with.
As the item increases in popularity, many stores have begun to sell rompers in unique shapes, including dramatic cutouts, low necks, or no backs. Rompers are the perfect outfit for any day, whether it be a lazy day at the beach or a fancy dinner in town. The pieces can go with virtually anything. As some dress rompers up with flashy jewelry, dangling earrings, and heels, others merely wear the outfit as a beach cover-up with sandals. The joy of the romper is just this: you can do anything with it!
Personally, I find that rompers consistently allow the person wearing it to look put-together, while being incredibly comfortable at the same time. Junior: Sarah Sexton is equally in love with the romper: "A romper is a whole outfit in one piece! There is no mixing and matching required!" As so many girls go through the constant hassle and struggle of picking out what to wear for the day, rompers are the perfect solution. As Sexton describes, rompers truly are "a whole outfit in one piece," which completely gets rid of the entire "does this shirt match these shorts?" fiasco.   
Another junior: Leigh Neuburger exclaims that rompers are: "one of my favorite pieces to wear because they are easy to throw on, go with just about anything, and are incredibly fashion-forward!" Rompers are a gift in terms of ease, comfort, and style. Boutiques like New Canaan's "Caren Forbes" and more popular stores like "Urban Outfitters" and "American Eagle" are well-stocked with numerous rompers for this summer. So, before the summer season officially starts, I highly recommend you invest in one of these one-piece wonders and I can promise that you too will fall in love.