A Review of the Fall Drama: Harvey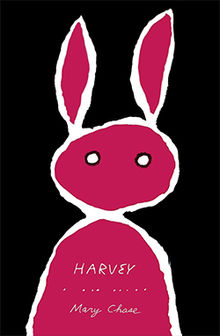 This year, the fall drama at JJHS was Harvey, a comedy written by Mary Chase. Harvey is the story of Elwood P. Dowd, a good-natured, middle-aged man whose best friend is an invisible, six foot rabbit named Harvey. Elwood introduces Harvey to everyone he meets, much to the discomfort of his sister, Veta, and his niece, Myrtle May, who are embarrassed of Elwood's delusional behavior. Veta and Myrtle May try to have Elwood admitted to a sanitarium. But, Dr. Sanderson mistakenly admits Veta, after she confesses to Dr. Sanderson that she, too, sees Harvey occasionally. When the sanitarium realizes they made a mistake, they begin a search for Elwood and Harvey. The sanitarium decides it would be best to give Elwood an injection that would change him into an ordinary human being. At the last second, Veta comes to the resolution that she loves Elwood just the way he is. Although he may have his quirks, Elwood is a kind, compassionate man who deserves to be loved.
The John Jay Performing Arts Department always goes above and beyond, exceeding audience members' expectations; Harvey was no exception. What set this drama apart from others was the talented and experienced cast who were all enthusiastic, engaging, and comical. Members of the talented cast included: Paul Newcomb (Elwood P. Dowd), Lily Oyen (Veta), Isobelle Novak (Myrtle May), Scott Weinstein (Dr. Sanderson), Jonah Linz (Dr. Chumley), Katie Gebbia (Nurse Kelly), Casey Wilcox (Wilson), Charlie Simonsen (Judge Gaffney), Josey Kralik (Betty Chumley), Riley Bryggman (Aunt Athel), Caroline Weiss, and Tristan Galler, who played the maid and cab driver, respectively.
Paul did an excellent job portraying Elwood P. Dowd and bringing Harvey to life. He has appeared in One Act Play Festival 8674, Blue Heart, High School Musical, Macbeth, and Twelfth Night. "My favorite part of playing Elwood Dowd was his easygoing, fun nature. "He's such a sweet guy, and it helped me react on stage," Paul said. "My favorite scene was probably when the doctors figure out that Elwood needs treatment in Act 1, Scene 2." This was one of my favorites too, because the scene was intense and humorous at the same time, as Nurse Kelly, Dr. Samuelson, and Dr. Chumley finally realized they made a huge mistake. The group was very frazzled as a result, making for an entertaining exchange on stage.
The fall drama was directed by Amanda Urban, who was grateful that the cast and crew "were able to find joy, pleasantness, and imagination in every day." I felt the same when watching the show. The Spring musical has yet to be announced, but I would 100% recommend students make time to see it. The cast worked incredibly hard to ensure their performance was nothing less than perfect in Harvey. I have little doubt that students can expect the same type of performances in the upcoming spring production.
View Comments (1)