John Jay Presents You Can't Take It With You
     On November 22 and 23, 2019,  the John Jay High School Theatre Department showcased its annual Fall Play. This year, the 1936 comedy You Can't Take It With You, written by George S. Kaufman and Moss Hart, was selected. This production of it marked the excellent Mr. William Friedman's return to directing John Jay High School Plays after a 2 year hiatus. After hearing about his phenomenal directing in the past, my expectations for Mr. Friedman, an English and Theatre teacher at John Jay High School, were very high. After seeing the show during its preview on November 21, I can honestly say that my expectations were exceeded. You Can't Take It With You questions one's definition of "normal" and function in society through its weird and crazy characters and hilarious book. 
    There are many plots intertwining throughout this production. We mainly focus on Alice Sycamore (Katie Gebbia '20), the eldest daughter in her wacky family, who becomes engaged to Tony Kirby (Charlie Simonsen '21), a rich boy who happens to be the vice president of a company on Wall Street. Despite the two being truly in love with each other, Alice is hesitant because her family's antics wouldn't sit well with Tony's parents, Anthony (Marty Stuttman '20) and Miriam (Isobelle Novak '20), which proves to be true. However, after the arrest of the two families on the night they meet, Anthony seems to have a change of heart after getting a wakeup call from Grandpa Vanderhof (Riley Bryggman '21), and realizes the beauty of freedom and following one's desires. 
    This show was absolutely hilarious! All of the actors really brought out their characters, making it really hard for me to select which actors really stood out. Lily Oyen '20, who portrayed Penny Sycamore, was absolutely fantastic as always. Playing the wacky character of an amature playwright who seems to be having an existential crisis, Oyen really brings out the crazy nature of Penny, while also showing her good heart and love for her family. Jonah Linz, portraying the Russian ballet teacher Boris Kolenkhov, was on pointe with his comedic timing and fantastic Russian accent. One actor that really stood out for me was Jordina Oweiss '22 portraying the alcoholic Gay Wellington. Having played a drunk in Guys & Dolls, Oweiss has definitely had some experience in acting as if she was intoxicated, and despite having little stage time, her drunken singing, dancing, and tendency to pass out regardless of the situations unfolding around her were guaranteed to make anyone who saw the play laugh their heads off. 
    The set, costumes, lighting, and effects were very well done. The stage crew did a fantastic job putting this all together, and trust me, it looked very difficult to pull off. I would love to give my congrats to the costume crew for their hard work on making all of the actors look stunning! And everyone behind the scenes really showed their dedication to making this all happen. It was fantastic!
Leave a Comment
About the Contributor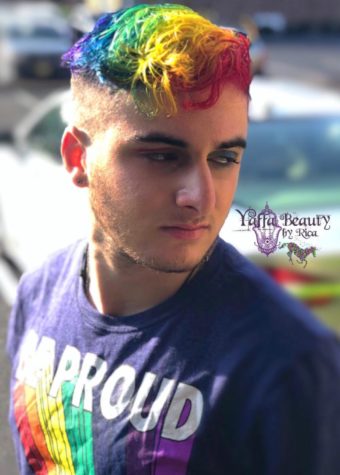 Harry Heftler, Editor-in-Chief
(He/Him)

Just your average coaster boi, Avril Lavigne fanatic, singer songwriter, and makeup artist