Where's the Beef?
I've eaten a lot of burgers in my lifetime and I've learned one thing: no two burgers are made the same.  What I mean by this is that some patties are far superior to others. For the last two weeks, I've visited three different burger joints all within a 30 minute drive of John Jay; I've eaten some great burgers and some not so great ones. In this review, I'll be telling you where my favorite burger is served and what exactly I liked about each one I tried.  
One restaurant that my friends told me about was Westchester Burger in Mount Kisco. I decided to try it myself and ordered the Balboa burger, which came with Swiss cheese, bacon, and onions on a garlic brioche bun. The burger patty was delicious, juicy and was cooked to perfection. The Swiss cheese and bacon perfectly complemented the patty and the bacon was also cooked just right. If there was one downside to this burger, it was the garlic brioche bun. The bun itself was soggy and took away from the other components of the burger. Aside from the meal, Westchester Burger had excellent service; my waitress was friendly and my food came out quickly. Overall, I would give Westchester Burger an 8/10.
Another recommendation I received was for Bareburger in Ridgefield Connecticut. After eating at Bareburger, I have to disagree with my friends who deemed this the best burger in the area. Overall, I was not a fan of the restaurant's decor: when I arrived at Bareburger, I noticed that the walls were covered with splintered wood. After reading over the menu, I decided to order the American Burger which was composed of a beef patty, american cheese, sweet pickles, tomatoes, red onions, green leaf, ketchup, stone ground mustard, and a brioche bun. Unlike Westchester Burger, the brioche bun was delicious. However, the burger itself was dry and extremely small compared to its competitors. Furthermore, the house-made ketchup and mustard were flavorless and mushy, and the cheese tasted slimy. Finally, the vegetables were bland and added nothing to the dish. Overall, I would give Bareburger a 4/10.
The final restaurant I took a trip to was the Blazer Pub, I've been to this restaurant many times and I can always count on it to provide a reliable meal. I typically get the Blazer Burger: a cheeseburger with lettuce, tomato, grilled onions, and bacon on a hard roll.  After eating many burgers in my lifetime I can say with certainty that this is one of my favorites. The Blazer is always consistent in producing high quality and very tasty burgers. The restaurant cooks their meat to perfection. When topping the burger with perfectly melted cheese and ingredients as fresh as the ones they use, you can't go wrong.  Overall, I would give the Blazer Pub a 10/10 rating and dub it the best burger within a 30 minute drive of John Jay High School.
About the Contributors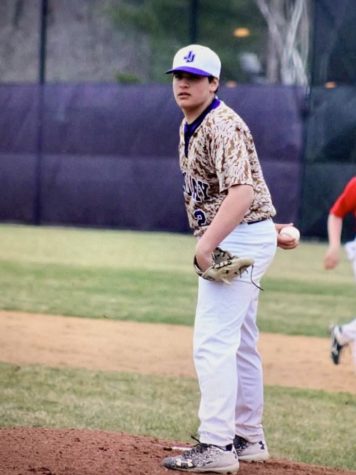 Michael Fassert, Sports Editor
Sports fan and player, food connoisseur, and friendly