KR Cafe Review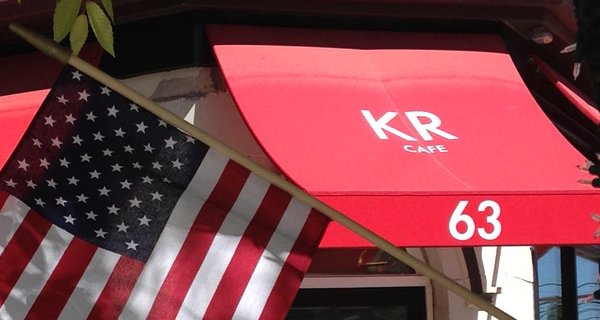 Hang on for a minute...we're trying to find some more stories you might like.
The KR Cafe is a quaint, locally-owned diner located in the heart of Katonah, New York. The KR Cafe has deep roots in Katonah, originating from the Katonah Restaurant, which had been serving Katonah and the surrounding areas for over 50 years. When the Katonah Restaurant was put up for sale in late-2014, KR Cafe owners Sascha and Evan Greenberg jumped at the opportunity. The Greenbergs renovated the entire restaurant from top to bottom, completely transforming the old diner. Following its renovation, the diner was reopened in January of 2015 as the KR Cafe.
The KR Cafe can be described as a modern version of the classic American diner. The outside of the KR Cafe doesn't look much different from a typical diner, with bright-red overhangs and a few neon signs. As soon as you walk inside the restaurant, however, its unique retro theme immediately becomes apparent. The KR Cafe's interior looks just like that of a classic diner, with bright-red booths and stools, milkshake and soda machines, an old-fashioned clock, and a big chalkboard with daily specials on the wall. This retro theme even applies to the servers, who are outfitted with classic black and white striped aprons. The diner only has 48 seats, making it a charming and cozy eatery that fits in perfectly with the rest of Katonah.
The KR Cafe serves a variety of different foods for breakfast, lunch, and dinner, and also offers daily specials for all three meals of the day. The extensive menu, which was very easy to read, offers all of the diner classics and more, including homemade pancakes, omelettes, open-faced turkey, and cheeseburgers.The KR Cafe seemed to offer "upgraded" versions of the typical diner fare by using more complex recipes, local ingredients, as well as by providing, vegetarian, and gluten-free options in order to accommodate all customers' needs. Unlike the average diner, the KR Cafe offers many untraditional items on its menu, such as the kitchen sink salad, mangia burger, or sizzling-hot fajitas, and has specials that change daily. The service was great; the servers were extremely friendly and helpful, and were very knowledgeable about the menu and specials. Our server checked on our table frequently, refilling drinks, clearing plates, and making sure we all had a great meal.
Overall, I had a great experience dining at the KR Cafe, and would highly recommend that you pay a visit if you haven't done so already. The KR Cafe's unique retro theme, great service, and variety of classic diner fare makes it a great option for a night out for dinner.