We All Scream for King Kone Ice Cream
Hang on for a minute...we're trying to find some more stories you might like.
Every Spring, John Jay students patiently await the opening of King Kone. King Kone is the local ice cream place located on the side of the road on Route 100 in Somers, New York. Although there is no lack of ice cream in our town: Baskin' Robbins, Twist, Peachwave, Deborah Anne's, and Blue Bird, King Kone is the town favorite.
The little building on the side of the road is covered in kistchy decorations; you can't miss it. A tall ice cream cone with a huge smile and wide eyes rests at the top of the flat-roof building. Along with the goofy ice cream cone, the walls paint a scenic image of a giraffe enjoy a picnic. These unique decorations give King Kone its famous and well-loved atmosphere. King Kone brings about a bright and happy attitude going into summer. People flock to King Kone once it opens. Drive-by any hot summer night, and cars will be lined up along the side of Route 100. All of those cars are leading in the direction of King Kone. Despite the long line and lack of available picnic benches, people are still eager to get their twist of the famous King Kone soft serve ice cream or a scoop of the delicious Gifford's hard ice cream.
I asked a few of my John Jay peers to share what they love to get at King Kone. Junior Kate Sandlund, stated that her favorite flavor is Queen of Hearts, a chocolate, raspberry masterpiece. However, Junior Allie Del Savio stated that Moose Tracks is the best flavor to get, because it combines all of the best flavors: fudge chocolate, vanilla, and peanut butter. Although the two Junior girls have different favorite flavors, they both agree that King Kone is a great place to go when you are looking to relax and hangout with friends.
The flavors offered are unique and ever-changing as they rotate their selection of hard ice cream.  Sometimes they may have Banana Pudding, other times you may find Cappuccino Crunch.  If you don't get a flavor when you see it, it may be a few weeks before it returns. So, you have to go to King Kone often if you want to sample the full array.
Not only does King Kone have amazing ice cream, but they also have great food. King Kone makes the typical fast food: burgers, hot dogs, french fries, onion rings, fried mac n' cheese, and much more. The menu is an array of yummy all-american fried food. They even make a killer lobster roll!
King Kone is a summertime classic that you don't want to miss. Squeeze in as many milkshakes, hamburgers, and ice cream cones as you can before the dread October closing. Have your summer screaming for more ice cream!
About the Writer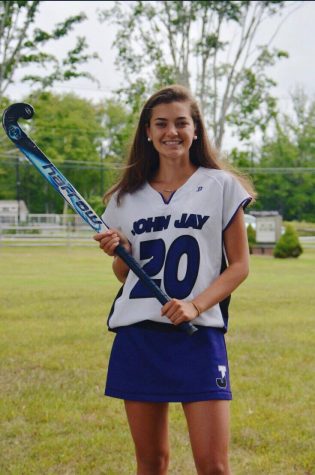 Leigh Neuburger, Arts/Fashion Editor