My Top 10 Avril Lavigne Songs
Avril Lavigne, best known for her songs Girlfriend, Sk8er Boi, and Complicated is definitely my #1 favorite singer. Her music spreads throughout a multitude of genres, from punk pop to Christian-rock to post grunge. In celebration of the release of her new album Head Above Water, I will be counting down my top 10 favorite Avril Lavigne songs.
10) Here's To Never Growing Up
Album: Avril Lavigne (2013)
This anthem is definitely a song perfect for getting the crowd going at parties. Avril wrote this song, about partying like there's no tomorrow and celebrating being forever young, while thinking of her time in high school. This song even features a reference to English alternative rock band Radiohead.
9) 17
Album: Avril Lavigne (2013)
While never released as a single, this song is good enough to have an entire Wikipedia article dedicated to it. "17" talks about the experiences Avril had at 17, which happens to be the age that her career really got going. She shows nostalgia about these times in this upbeat pop song.
8) He Wasn't
Album: Under My Skin (2004)
Honestly, this is a really underrated song of Avril's. This fast paced post-grunge song is about a relationship between Avril and a man who isn't treating her right, and appears to not be good enough for her. The driven song along with catchy lyrics makes it such an iconic song of hers and a great contrast to the slower songs featured on Under My Skin.
7) Things I'll Never Say
Album: Let Go (2002)
This song is yet another one of her underrated songs. It details about having a crush on a guy and holding back on things you really to do with him, such as be with him every night and eventually get married. It also shows how there are so many things we want to say to our crush to get that relationship going, but we don't. Being that she was 17 when she wrote it, it makes it all the more relatable to us high school students, as I'm sure most, if not all of us, have a crush on someone at least once in our lives.
6) Head Above Water
Album: Head Above Water (2019)
I was practically bouncing off the walls when I found out Avril Lavigne was going to release new music after 5 years. On September 19, 2018, while sitting in my bedroom, I said, "Alexa, play 'Head Above Water' by Avril Lavigne," and boy was I shocked with the results of this song. Written about her battle with Lyme disease, this song talks about Avril looking up to God to try and heal her. Water in this case is a metaphor for Lyme disease, and she does not want to drown in it. This song was such a fantastic comeback for her!
5) Hot
Album: The Best Damn Thing (2007)
This song is the pure opposite of "He Wasn't." Insteading of talking about a guy who's treating her badly, Avril's talking about one who's so good to her. This pop rock ballad talks about all the things that she wants to do to him and what she wants him to do to her. It's showing how she really feels about her love and how real and raw her emotions are.
4) Girlfriend
Album: The Best Damn Thing (2007)
This is definitely one of her signature hits! Taking on the persona of a girl trying to steal a guy away from another girl, Avril blessed us with this fast paced pop rock song and it became a huge success. With the catchy chorus of "Hey! Hey! You! You! I don't like your girlfriend. No way! No way! I think you need a new one. Hey! Hey! You! You! I could be your girlfriend," the song gets straight to the point in a sassy, energetic way.
3) Sk8er Boi
Album: Let Go (2002)
Of course I had to include this one on my list. This song is just so iconic and so memorable, and very reminiscent for those 2k kids out there! Being about a sk8er boi and a snobby girl, this song describes how even though he wanted her, she rejected him despite returning his feelings, only because her friends disliked him. In the end, the girl becomes a young single mom, while the boy goes on to become a famous rocker, and becomes Avril's boyfriend. It's so catchy and makes you want just get up and dance!
2) Complicated
Album: Let Go (2002)
Possibly her most iconic song, this song was her debut single. It is about how people can pretend in front of some people and show their real self in front of others, making things rather complicated. With its catchy chorus and mellow beat, it's no wonder why this song is loved by so many fans and continues to be timeless to this day. In fact this year marks the 17th anniversary of her debut album Let Go, which is the same age as how old she was when she released it.
and finally…
My Happy Ending
Album: Under My Skin (2004)
This song is honestly really relatable for me. I listen to it whenever I feel rejected or just upset in general. Detailing a relationship that doesn't work out and having to say goodbye to the memories, this song can be relatable for anyone who's experienced a breakup. This song happens to be my favorite song ever for its great lyrics and execution, so it's no wonder why it makes #1 for me!
About the Writer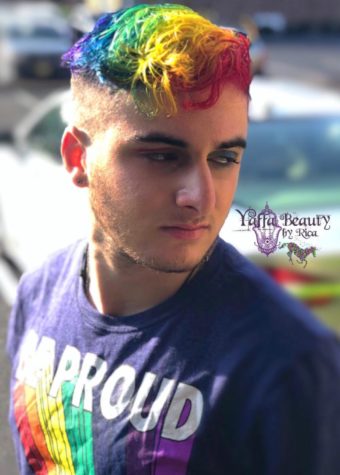 Harry Heftler, Editor-in-Chief
(He/Him)

Just your average coaster boi, Avril Lavigne fanatic, singer songwriter, and makeup artist