The Greatest Showman: Movie Review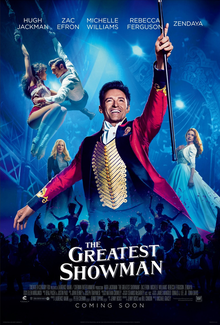 Hang on for a minute...we're trying to find some more stories you might like.
Well, let's take out the lions, tigers, and bears, then add an elephant, a couple of misfits and a ringmaster and you've got it… a circus. Yet, a circus isn't born overnight. And no one knows that better than P.T Barnum. Born into poverty, Barnum has a lot on his plate. He must grapple with the death of his father and the ongoing demands of providing for his family. What one might view as a tragedy, Barnum sees it as an opportunity. After being laid off from his old job he opens a museum. Not just any old museum… this one has a bearded woman, trapeze duo and a man who's just a few feet tall.
The Greatest Showman unpacks the answers in a musical. It invites the audience to step behind the scenes of P.T. Barnum's incredible life. With his growing success, he is dedicated to the happiness of his family. With always putting them first, he ventures into the unknown where things aren't as easy as they might seem.
I'm not usually one to watch musicals, but this film was a game changer. I expected it to be a typical sing-song broadway musical, however, it was nothing but typical. Directed by Michael Gracey, The Greatest Showman is an unabashed piece of pure entertainment. The eleven memorable songs composed by Oscar and Tony-winning duo of Benj Pasek and Justin Paul are going to be stuck in your head all day. This film is made for the whole family to enjoy. Besides all the wonderful acting, the music creates a lively tone to the film. The music is the backbone of the movie and has you wanting to jump up and sing along.
The overall production of this film was flawless. One of the main actors being Zac Efron, who got his start because he could sing and dance, is an extra bonus to this film. Starting his career off with the iconic, "High School Musical", has now morphed him into something rather unique. Add to that beautiful voice, plus dancing skills, plus a surprisingly ironic sense of humor, and he's got the full package. It's thrilling to see him in a big splashy musical where is he very much at home.
Everything about this show was perfect and I can promise you that you will leave with a smile on your face. It is such a lively performance that does nothing less than making you want to jam out with all of your friends and family.