Anastasia The Musical, A Broadway Masterpiece
Broadway's most spectacular historical adaption, Anastasia by playwright Terrence McNally, lyricist Lynn Ahrens, and composer Stephen Flaherty, sets the stage for an inspiring story of a young woman seeking the mystery of her past in her journey through 1920s Russia and Paris.  Young Anya, the heroine of the story, is a powerful model of audacity by her limitless perseverance through life's adversities. Inspired by the 1997 film, this musical encompasses the historic scene of the Romanov Empire of Russia and the joint between headstrong Anya, a "dashing" conman, and "lovable"-ex-aristocrat.  Anastasia brings an aura to the importance of determination, friendship, and family, which are powerful messages for all audiences.
Since May of 2016, Anastasia has gathered audiences around the globe through both its New York City location and Anastasia Tour who have deemed it as "An absolute masterpiece" and as "The most amazing Broadway experience" (Anastasia Broadway, audience reviews).  Critics are raging over the show as "An iconic tale of empowerment… a triumphant celebration of courage, love, and reconciliation" (Daniel Rafinejad, The Huffington Post) and " A sweeping adventure, romance and historical epics that piles discovery upon discovery" (Time Out New York).
An astounding cast including Christy Altomare, John Bolton, Cody Simpson, and former Derek Klena have taken over Broadway with emotional and breathtaking performances.  The theater becomes engrossed as the actors perform the exceptional scores "Once Upon a December" and "Journey to the Past."
After seeing the show two years in a row, Anastasia still has the audacity to captivate its audience members.  From telling song compositions, stunning set designs, and dazzling costumes, the musical sucks the audience into shoes of all its beloved characters.  Every scene is memorable from comical dialogues to extravagant dance features, bringing the audience to laughter and awe.
As a personal favorite, Anastasia beholds a Broadway experience beyond compare.  From the moment the curtain opens and falls, my family and I were glued to our chairs, awaiting the next splendid surprise the musical had in-store.  The actors are gems among Broadway through their on-stage excellence and love for fans post-show.
Upon leaving the theater, not an individual is left without the Broadway bug, humming the unforgettable and yearning songs Anastasia left in our hearts.
As NBC captures the bound experience, " A serious hit!  Broadway's got a bright new star- its name is Anastasia"
A must see.
Final performance March 31.  
Leave a Comment
About the Contributor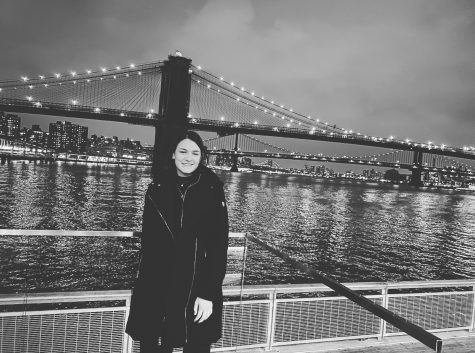 Ashley Stagnari, Editor-in-Chief