MLB Celebrates Baseball Legend Jackie Robinson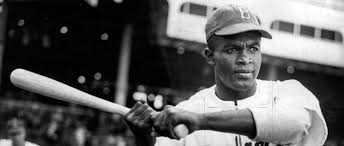 Sunday, April 15, 2018, was Jackie Robinson Day.  On this day 71 years ago, Jackie Robinson took the field for the Brooklyn Dodgers, becoming the first African-American to play in Major League Baseball.   
On Jackie Robinson Day all players, coaches, and staff across all 30 Major League teams wear the number 42 in recognition of Jackie Robinson, a tradition that began in 2009. On every other day, no other player wears the number 42 as it is retired on every baseball team in further appreciation of his contribution to the game of baseball and civil rights.
Jackie Robinson began his career in 1947 when he took the field in his first game for the Brooklyn Dodgers.  In his first year in the league he was awarded National League Rookie of the Year and only two years later he won both the Most Valuable Player Award and Batting Champion. On top of all these achievements he also made six all-star teams and had a career average of 0.311 which is higher than both Yogi Berra and Hank Aaron.
Jackie Robinson's fight for civil rights continued even after he retired in 1956. He became a board member of the National Association for the Advancement of Colored People (NAACP) and was a major participant in the civil rights movement, leading movements in Albany (Ga.) and Birmingham. He also established the Freedom National Bank in Harlem as a protest of the practice of denying African Americans loans or setting interest rates absurdly high.
While today only eight percent of the players in the Major League are African American, the impact of Jackie Robinson has touched everyone. As Larry Miggins, a former baseball player who played against Robinson in the Minor Leagues, once said, "Guys who are in the Hall of Fame said terrible things about him, not because of his playing ability or his character, but because he was black. You have to admire him. He never gave up, and he kept at it until the day he died."