What's New in Drawing and Painting Two?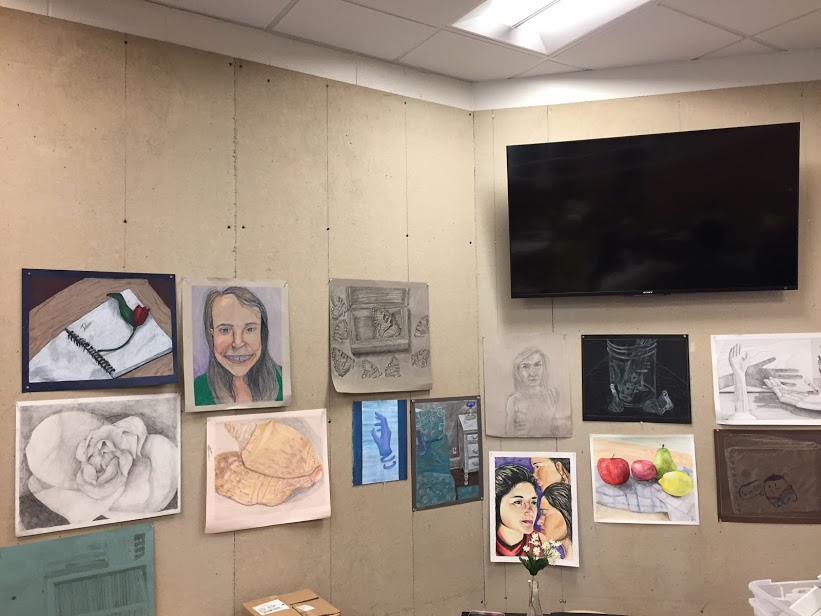 As school is, unfortunately, in full swing, the classes you chose the previous year have become a reality, the work is piling up, and your summer social life is slowly plummeting. As a junior, it's safe to say that I am constantly looking for an escape from the reality of schoolwork and am searching for just another way to avoid the looming topic hanging over everyone's heads: college. After consistently taking an art class since 9th grade, it is safe to say that my escape is art. After taking Studio Art and Drawing and Painting One, it only felt natural to choose Drawing and Painting Two as one of my electives. I can proudly say that I am so happy I did.
I was certainly apprehensive going into my third year of art, as I never thought of myself as an artist and was constantly reminded that I really wasn't that good comparing my sketches to the photograph-like pieces that filled the hallways in school. After closely analyzing the artwork that filled the main hallway, I truly admired the students' work from Drawing and Painting Two. Yet I still felt with certainty that there was no way I could ever complete a similar piece myself. But when it came time to meet with our guidance counselors and tell them which classes we had finally chosen: these outstanding pieces of artwork came to mind, and I had a realization that I would never know if art was truly for me if I didn't try.
Being in the second month of school, it's safe to say that Drawing and Painting Two is one of my favorite classes. Having the same teacher for the third year in a row (@Julie), I certainly felt comfortable in my art class from the very first day. One worry did arrive on the first day of school, when twenty of us sat facing each other in shock at the large size of the class compared to last year. However, by day two, that worry was quickly put to ease. Julie began by telling us the plan for the upcoming year; she discussed the mediums we will be using, how many homeworks we will have, and how long in-class projects will take. I immediately realized that this class was not some insane professional college-level art class, but a more rigorous version of my previous art classes with the common goal of improvement.
It is month two and we have already completed one homework (a very general assignment with a choice in medium and subject) and one in-class project (the theme being nature). With some of my work from Drawing and Painting One hanging in my bedroom, the improvement I have seen with my homework and in-class project is truly insane. Like I previously stated, I had never thought of myself as being good at art or truly being an artist for that matter, and I still really don't. However, the improvement I have personally seen in my own work truly is remarkable. Last year in Drawing and Painting One, we set goals for ourselves, and I can honestly say I have completed those goals after seeing my first pieces a full year later.
The class itself is truly my favorite forty minutes of the day. After closing the glass doors to H- hallway behind me, I can always feel myself drifting into a peaceful escape. By the time the fourth period bell rings, everyone in my class is already engaged in their artwork. With all of the hard-working art students sitting in a unique configuration of tables,  earbuds securely in place, and the only outside noise being an occasional sharpen of a colored pencil or the shading of a 6B, art is one of my favorite times of the day. It is safe to say that most of my classmates agree, as we constantly joke with Julie that we should be given an "Art Lab" just as we would science.
The moral of this art rant is not to be forcing you to take art and not to make feel like you are missing out, but rather to share my personal take on the class and our John Jay art program as a whole. As a junior who is overwhelmed by homework, clubs, sports, learning to drive, and standardized testing, I can honestly say that I look forward to my period 4 art class every single day.