John Jay Opens Season with Back-to-Back Victories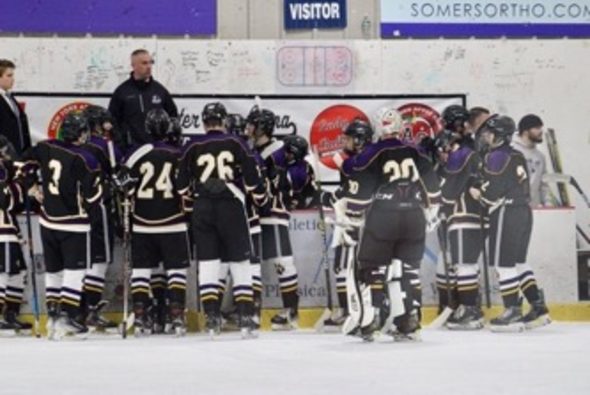 A strong and formidable John Jay Varsity Ice Hockey team opened their 2022-2023 season with a 3-2 win against the BYSNS (Brewster/Yorktown/Somers/North Salem) on Friday, December 2nd.   
A too-close-for-comfort victory against the BYSNS had much of John Jay rattled and its players hoping to learn from its struggles and accomplish the goal of a section championship. Senior forward Kyle Petschek told the FOCUS, "It's no question that we struggled, we thought it would just click when we got on the ice, but when it took a period for us to realize each game is important for a possible championship, we bounced back." Hopeful words from one of the leaders of this team.    
After sophomore Declan Goldrick found the net to take the early lead, the BYSNS stormed back with two consecutive goals, creating pressure for John Jay. But after the break, we saw a different version of Wolves hockey, averaging nine hits in the second period and six in the third.   
Not only did a stronger defense clinch the win for John Jay so did its veteran goalie, Dylan Rogers, who saved a total of 48 shots, and proved he can step up when his team needed him the most. Rogers noted that "we all know we can play better, myself included, but we maintain the mentality of success and determination. We will continue to push ourselves each day we get on the ice, we are that team, a winning team."   
After going down 2-1 in a game that was expected to be a win, key defenseman Walter Oestreicher breezed past the BYSNS defense to slam in the second goal for Jay. With the help of Petschek's speed down the ice, Oestreicher was set up with his pass and tied the game. With only four minutes left, senior PJ DeNoia, whose skill and speed had been a problem for the BYSNS all game, punched it in a goal, sealing the win for Jay. A beautiful setup play from Rogers to Oestreicher to once again Petschek, who assisted, allowed DeNoia to get the first goal of his season and seal a 3-2 win for John Jay.
Oestreicher spoke on the importance of this win, stating, "Our potential is unlimited, that's for sure. We were definitely nervous in the beginning but once we settled down, we started to play real John Jay hockey." Overall, a nail-biting win for Jay, but proving to its fans that when needed they show up.   
The Wolves followed up this win with a thrilling overtime victory against Pawling on Sunday. Junior Kenny Irving had the game-winning goal, wrapping up a successful season-opening weekend for the Wolves. 
Leave a Comment