Breaking Barriers Between Pipes: An Interview with Erin Samuelson
When Erin Samuelson heard that she would be starting in net for the John Jay Ice Hockey Team, her mind was blown and the pressure was on. The program had won the section championship 4 times since 2012, meaning it was up to Erin to continue the legacy of excellence. As only a freshman netminder, Erin had little experience playing in front of a large crowd. With a team of only 12 returning players in front of her, Erin had to lead the way. In 5 games played, the freshman netminder has won 3 games, posting a 4.60 GAA and a .822 save percentage while also shutting out top ranked Mamaroneck. In this interview, Erin talks about her experience as the starting goaltender and her challenges as a female in a primarily masculine sport.
Q: How do you feel as the only girl on an all boys hockey team?
A: It is really great and cool to have the opportunity to prove people wrong that girls can compete at a high level with boys.
Q: How did you feel upon hearing that the starting goaltender had Covid and you were starting?
A: It was nerve wracking, but once I got on the ice I created good vibes. Once I made the first few saves I felt really good and was able to do my job.
Q: How do you respond to the pressure placed on you?
A: I like to control my emotions to the best of my ability so I can play well. Sometimes the pressure gets to me but I channel it to play my game.
Q: What is your favorite thing about John Jay Ice hockey?
A: My favorite thing is the atmosphere we've created and how much fun we have on and off the ice
Q: Who is your hockey inspiration?
A: Henrik Lundqvist
Q: What do you have to say to all the young female athletes trying to make an impact
on a boys team?
A: Keep trying and working hard, and I promise you will be rewarded
Q: How did you get introduced to the sport of ice hockey?
A: I started learning to skate when I was 3 and a half. When I was 5 I said I wanted to be a goalie and I started trying out as a goalie. Later, my Peewee team did not have a goalie so I was put in the net. Ever since that day, ice hockey goalie has been my biggest passion.
Q: What are your long term goals for the sport?
A: I plan to play ice hockey at the D1 collegiate level and for the United States National team. I want to end up playing in the highest level possible
After the final buzzer sounded and the team came to congratulate Erin on her shutout, they realized she was just another teammate after all. Gender does not define Erin, as she continues to defy the odds and hopes to bring John Jay Ice Hockey more success. Erin will continue to serve as a role model for all female athletes striving to make their mark in a primarily male sport.
Leave a Comment
About the Writer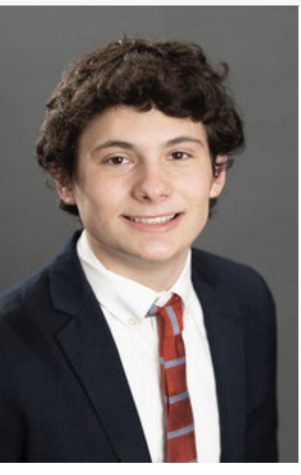 Doug Styles, Sports Editor
Writer, Hockey Player, Avid Sports Fan