John Jay Rebounds Offensively with Serious Statement Win Over Eastchester
Successful Senior Night for the Wolves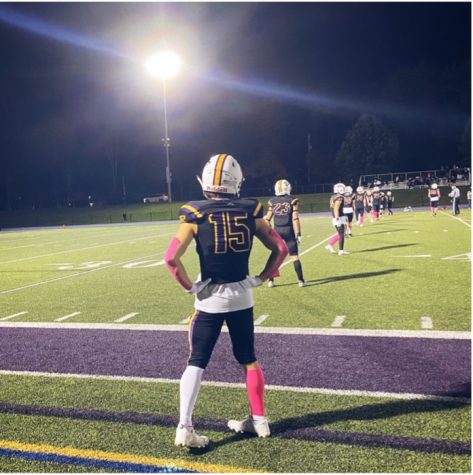 Coming off a disappointing finish a week ago against Pelham, which saw John Jay score zero offensive touchdowns, the Wolves rebounded with a statement win in their home finale against a strong Eastchester Eagles team.
After a pregame ceremony honoring the team's 15 graduating seniors, the Wolves came out of the gate hot as Michael Mendicino picked off Eastchester quarterback Frankie Provenzale at the Eagles' 25-yard line. Christian Shapiro immediately took advantage of the good field position with a pair of big runs, punching the second one into the end zone. After sophomore Mathias Baez connected with the extra point, John Jay led 7-0.
After exchanging a few punts, John Jay quarterback Craig Galea took a massive hit from Eastchester defensive lineman Matthew Langer, leading to fumble inside Wolves territory. Dominick Speradino matched Shapiro by taking it in from 21 yards out, tying the score at seven a piece.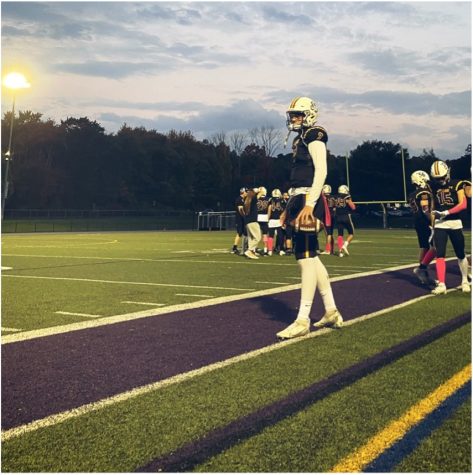 As was the trend all night, the Wolves offense ran through running back Christian Shapiro. The senior started the drive with a 25-yard kick return and followed by ripping off two huge runs putting John Jay in prime scoring territory. After a pass interference call put the defense back inside the 5, Shapiro put one in the end zone giving John Jay the lead.
John Jay attempted scoring again before the half, but Speradino intercepted the throw from quarterback Craig Galea, making it Eastchester's possession. The Eagles marched down the field using all their time outs but stalled in the red zone as defensive back Austin Zaccagnino batted down a desperation pass to the end zone, putting a wrap on the first half of play.
John Jay would receive the kick to open the second half of play and looked primed to give the ball away after a big catch by Chris DiChiara was called back for a penalty. However, the Wolves turned to Christian Shapiro on a screen play which turned into a 22-yard gain and a first down. Once again inside the red zone, Shapiro punched it in from 3 to stretch the lead to two touchdowns.
However, Eastchester once again responded with points using a strong running attack to find their way into the end zone. Once again in the middle of the action, Christian Shapiro blocked the extra point attempt on special teams, holding the Eagles to six points.
After facing a third and long on their next drive, a pass interference call helped put Galea and the Wolves in prime field position. After a series of runs to make it into the red zone, Galea took a shot at Austin Zaccagnino in the back corner of the end zone. After juggling the pass and dragging his feet, Zaccagnino held on to the football but was controversially called out of bounds and the pass was rule incomplete. This call would loom large in the upcoming moments as Eastchester marched down the field and scored thanks to a 40-yard reception by Gavin Mackin Berger.
After scoring the touchdown, Eastchester was forced to attempt a two-point conversion. After originally being denied, a defensive pass interference call gave them another attempt on which they capitalized, evening the score once again.
Assistant Coach Will Carter said that he was definitely concerned, but was convinced that John Jay was "going to pull it out."
John Jay got the ball back and Shapiro once again found the end zone, giving the Wolves a fourth quarter lead. After a huge kickoff return by Eastchester's Speradino, junior Luca Duva delivered a huge tackle in the backfield. Michael Mendicino followed with a big hit on Aidan Schultz knocking a would be first-down, incomplete.
After forcing Eastchester to punt, Galea utilized his star wide receivers Chris DiChiara and Austin Zaccagnino, the latter of whom capped off John Jay's final drive with remarkable touchdown grab.
For one final attempt at a comeback, the Eagles looked poised to comeback after a series of quick successful plays. However, their comeback was thwarted by a bad snap which John Jay recovered, effectively ending the game.
The common trend throughout the night was John Jay's reliance on their playmakers. Shapiro and Zaccagnino once again had huge nights on offense and DiChiara's return from injury gave Galea another weapon on offense.
John Jay also emphasized the use of their younger players as mentioned by senior Gerard Garofolo who mentioned the impact that Duva, as well as fellow juniors Cameron Wierl, Dom Savastano, and Christian Herlihy have had all season.
Shapiro provided the same sentiment adding, "football is an eleven-man sport. It takes all eleven to win, as you can see tonight."
First-year Head Coach Joe Candarelli spoke on tonight's win. He stated, "Very proud of how the boys handled things tonight with a 4-1 team rolling in. This game obviously had major playoff implications and they took care of business."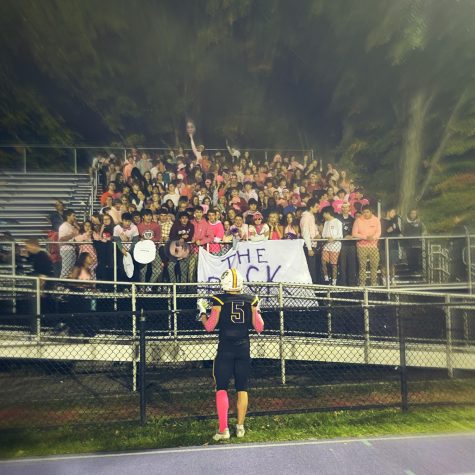 John Jay's 34-21 victory over the Eagles put them in contention for a post-season. On Friday, October 14th, the Wolves will travel to Mahopac. The Indians also need just one more win to qualify for the playoffs, making next week's matchup a crucial one. Loyal fan Scott Esposito says, "I will be there," when asked if going to the away match. If John Jay has a solid fan base in Mahopac, it could help them a lot. But with or without fans, they hope to carry their momentum from tonight and earn their spot in the post-season.
Leave a Comment
About the Contributors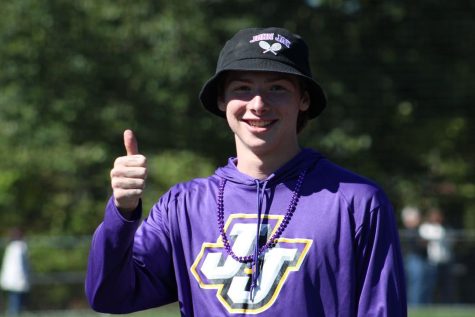 Ian Rhodes, Web Editor
"The central dilemma in journalism is that you don't know what you don't know." -Bob Woodward