Perfect Score on the AP
Since last year's exam, The College Board released data on the results of the AP US History Exam. This data reveals that 73.8% of AP US History students scored a 3 or lower and only 10.7% of students scored the maximum score of 5. From this data, it is clear that it takes a one-of-a-kind student to score a 5. 
In order to score a perfect score on the AP US History Exam, a student needs to earn 140/140 points. These are broken up into Multiple Choice Questions (MCQ), Short Answer Questions (SAQ), a Document Based Question (DBQ), and a Long Essay Question (LEQ). MCQs are straightforward in scoring, the student either answered the question correctly or they answered incorrectly. They either get full credit for a question or no credit at all. For the written responses, an assigned evaluator scores based on the extent to which the student answered the questions, making it significantly harder to receive full credit. Just eight students out of 460,000 accomplished this feat. By doing this, they achieved something that is nearly impossible, and I have the pleasure of going to school with one of them. 
Oliver Berke is a senior at John Jay High School. He is known for his impeccable sense of humor and the smile constantly on his face. He is involved in the school community (he even edits for The FOCUS). Last year he was a stellar APUSH student, and his perfect AP score perfectly reflects that. His teacher, Ms. McCarthy said she was "very proud of his work," describing him as "far and away the hardest working APUSH student last year."  
Oliver Berke is a humble man. It is unlike him to brag about, or even publicly celebrate, an accomplishment of this nature. But when he received the AP Exam results, McCarthy says he was "over the moon, trying to be humble about it." Even the humble and respectful Oliver Berke couldn't contain his excitement over his score. 
Berke says there is no question about his love for history. He claimed his accomplishment came after struggling to study the week prior to the exam. "While my time management skills were pretty bad going into the week before the exam, my passion to learn the great scope of American history combined with the knowledge I had, I just got the hang of the DBQ and the LEQ." During the exam he found a flow which allowed him to succeed in getting his perfect score, despite his doubts. "My love of history carried me to victory in the end," said a proud Berke.  
The student body was surprised by Berke's accomplishment, but not envious in the slightest. "Nobody deserves it more," says Class of 2023 salutatorian, Olivia Blank. "If anyone in our grade was going to get a perfect score, it was definitely Oliver Berke." The student body found out about this accomplishment from a post from the administration on the school website. In the days after the message was posted, students and faculty approached him with well-earned congratulatory messages. Congratu
Leave a Comment
About the Contributor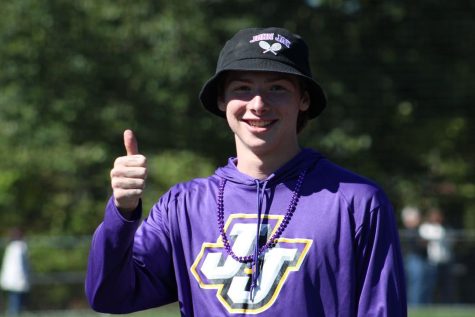 Ian Rhodes, Web Editor
"The central dilemma in journalism is that you don't know what you don't know." -Bob Woodward