Ben Heller Interview
 Learning about Yankee pitcher Ben Heller 
In a blockbuster trade between the New York Yankees and Cleveland Indians, the Yankees sent coveted pitcher Andrew Miller to Cleveland for several young prospects. One of them being relief pitcher Ben Heller. 
Ben Heller has only logged 25.1 innings pitched in 25 career games as a Yankee. In the year 2018, he was shut down due to an elbow issue. He had to get Tommy John Surgery causing him to miss the entire 2018 season and has continued to rehab and get try to get healthy since. Heller has recovered and feels ready. He has a strong passion for baseball and is excited for this upcoming 2020 season. 
I was fortunate enough to be able to interview Ben Heller via Instagram. We talked about a wide variety of topics including personal facts about him, his expectations for himself and the Yankees in 2020, and more! Read below to read the full interview. 
Personal: 
Q- Who was your favorite team growing up? 
A- Growing up in Wisconsin I was a huge Brewers fan and my favorite baseball memory was actually watching CC pitch for the Brewers in 2008 and single handedly carry them to the playoffs. 
Q- Getting drafted must have been an incredible feeling. Was there a team you were hoping would pick you? 
A-When I was going through the draft process I was really just hoping any team would give me a chance! 
Q- How did it feel when you were traded to the Yankees? 
A- About a month before I got traded to the Yankees, I read Mariano Rivera's book that he wrote, and I remember thinking how amazing it would be to play for the Yankees one day. Sure enough, a month later I was traded and a few weeks after that I made my debut. It was an incredible feeling to put on the pinstripes and pitch in Yankee Stadium.
Q- Tell me about your time so far in the Yankees organization. 
A-One thing that has really stood out to me about my time with the Yankees is how great the clubhouse is and how welcoming everyone is. The veterans on the team want to make everyone feel comfortable and welcomed, and the coaches and front office want to help every player be the best they can be.
Q- What are your expectations and goals for this upcoming season? Are you ready to step into a bigger role this year in the bullpen? 
A- This is an exciting year for me, finally healthy coming off TJ surgery, I feel ready to contribute in a big way and am really looking forward to being a part of something special this year. 
Team: 
Q- With the addition of Gerrit Cole this offseason, the expectations for this team are through the roof. What are your expectations for the team this year and how has Aaron Boone and the players on the roster addressed the added pressure of being favorites in the AL? 
A- We obviously hear all the hype and know what the media is saying about us this year, but for the players, we just try to go about our business as usual. It's not like a video game where the team with the best players on paper always win… you actually have to play the games, so we just try to focus on preparing ourselves to perform and competing our hardest every game.
Rapid-fire:
Q- Who was your favorite player growing up? 
A- Prince Fielder
Q- What is your favorite baseball movie? 
A- Major League
Q- What is your favorite sport to play other than baseball? 
A-  Football 
Q- Who is the toughest batter you have ever had to face? 
A- Adrian Gonzalez- it was like that guy knew what pitch I was gonna throw before I did. He was not an easy out. 
Final: 
Q- What do you want Yankee fans to know about you as a player heading into 2020? 
A- I try not to take myself too seriously all the time, but there's nothing I love more than competing and trying to be the best pitcher I can possibly be.
Leave a Comment
About the Contributor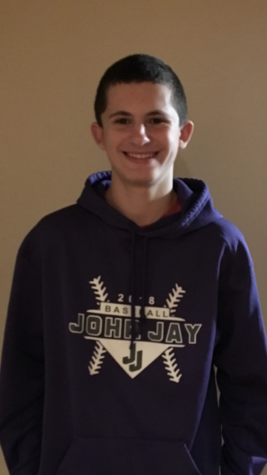 Brandon Beame, Sports Editor