John Jay Veterans Club Paints Red White and Blue
On Friday, November 9th, 2018, the John Jay High School Veterans Club (JJ4Vets) hosted an honorary lunch and ceremony, which included performances from John Jay's Performing Arts Department, singing of the National Anthem, and Taps, for the local veterans in Katonah-Lewisboro in commemoration of Veterans Day. Local attendees included John Jay High School Principal, Dr. Siciliano, who served in the United States National Guard, Jeffrey York; United States Army, Michael Nigrelli; United States Army, Korean War, John Lemke; U.S. Army, Kenneth C. Klotzkin; United States Air Force, and Henry Neil; U.S. Marine Corps. While these veterans wore different badges, the uniformity that held together the youth and servicemen at the honorary lunch that afternoon was the notion of appreciation and acknowledgment.
When asked what was the most important moment of the lunch, Principal Dr. Siciliano stated, "Seeing how the new and old generations collaborated and shared their stories with one another". From the grueling stories of Boot Camp and active service to their favorite movies, JJ4Vets club members and I experienced the chance to share a "thank you" and a personal connection with those who served for our freedom. Through our conversations, the local veterans left messages most memorable and signifying for all generations. As U.S Army Veteran Jeffrey York stated, "our Democracy and freedom didn't just happen by people and plans back home." York later went on to explain how the donated flags, by John Jay students in honor of personal veterans, are reflections of the individuals who were willing to put their lives on the line to defend our own.
Other words by U.S. Air Force Veteran Kenneth Klotzkin brought forth an imperative message explaining how our veterans served for our freedom and opportunity and now it is our turn to serve them through more than a "thank you", but an act of support to foster their opportunities and welfare. Lastly, by U.S. Army Veteran Michael Negrelli shared with me the unforgettable lines of former President John F. Kennedy, "Ask not what your country can do for you, ask what you can do for your country." These words are not only a call to action to fight but are a call to action for present and future generations to keep our veterans' service and sacrifice alive.
With this in mind, a heartwarming notion the local veterans, club members, and I shared was how the donated flags by John Jay students created a field very much alive with the spirit of those who served and those we will never forget as the U.S. flags wave freely in the wind to greet us.
About the Writer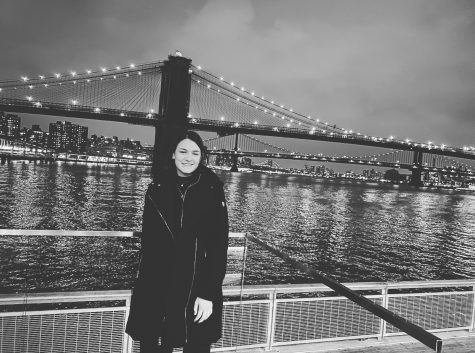 Ashley Stagnari, Editor-in-Chief