Summer '17 Fashion Trends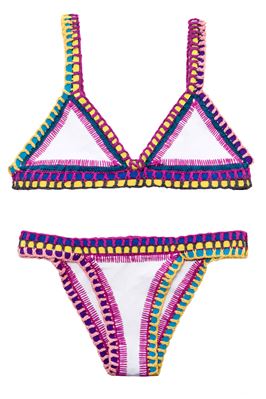 With summer quickly approaching, many new trends begin to surface both in and out of school. Going into summer 2017,  you will find the majority of students in intricate strappy sandals, crochet bathing suits, high waisted ripped jean shorts, and bold sunglasses. The common looks and clothing of music festivals have transformed into the ordinary summer wear for JJHS students. 
A hot spot for summer clothing and accessories this year is Urban Outfitters. Other than their trendy shirts and shorts, Urban has become a key place to buy sunglasses, selling countless pairs of unique sunglasses with extreme geometric shapes. Including cat-eye glasses with dramatic pointy edges and  sunglasses where the lens ceases to end, unique eyewear has become a summer must-have.
As I was scrolling through my Instagram feed, I saw an ad pop up for the bathing suit company called: "Kiini." Becoming instantly intrigued in the new look, I clicked on the page and learned that the company sells bathing suits that are made of string! One of the models was wearing cat eye sunglasses while in one of these beautiful crochet bathing suits, conveying this true summer trend. This "crochet theme" is carrying into the clothing field for summer. Many girls are purchasing tank tops, crop tops, and bralettes made out of this knit fabric. The strings used for the crochet looks come in all different bright colors and pastels to produce beautiful patterns to rock this summer. This style is popularly paired with super-ripped high waisted jean shorts. For Govball, an annual (and upcoming) music festival held in NYC, almost all of the people that attend carry out these exact trends. Though cute and stylish, this look is not very practical when it comes to comfort and ease.
In terms of footwear, high top converse are an extremely popular trend this year worn by both girls and guys alike. But once summer is in full swing, I doubt you will be grabbing your sneakers to head out to the beach, so many people look for sandals, flip-flops, and slip-ons for the perfect summer day.  In recent trends, some of these sandals consist of strings and bows that can be laced up high around the ankle and sometimes even around the calf. Although adorable, these are once again not very convenient and practical. My go-to shoe for summer would be the ever-so-famous "Rainbows." These flip-flops, worn by both guys and girls, come in neutral tones, are durable, and can match with any outfit. 
With summer right around the corner, these styles and trends seem to be the most prominent worn by JJHS students and more! So grab your funky sunglasses, throw on a crotchet top and hop right into these trendy summer time looks!