"I Will Always Love You," the 90's.
The 90's are coming back— and I personally couldn't be happier. All throughout the 2000's, we saw the recurrence of fashion trends from past decades. But now, from the immense population of Adidas sneakers to the glamorous, quintessential hoop earring, it is safe to say that The Fresh Prince of Bel-Air would be happy to see his decade living on. Even hairstyles have taken a turn to imitate those from the 90's: buns, bobs, and braids are all popular coiffures in 2017. Why are these trends coming back? Is it because people are wishing they still lived in a time when Clinton was president? When "Seinfeld" was all the rage? I don't know if that's the reason. Maybe it's because the 90's were a fresh, culturally rich time when the economy was boomin' and so was the music. In fact, The New York Times reports that between 1990 and 1999, the median American household income grew by ten percent. Since 2000, it has decreased by nearly nine percent, which makes sense why some people just want to #TBT to the 90's. Britney Spears, Christina Aguilera, Gwen Stefani, Tupac and Biggie, and so many others taught 90s kids the real lessons. It's no wonder that I have noticed so many of these trends making a comeback— it's for good reason.
90's inspired clothing, accessories/ statement pieces, and hairstyles are all trends I see coming back. Let's start with clothing. Shoes. Adidas Superstar sneakers can be found on every single middle school to high school to college aged person, on any given day. These white and black shoes are simple enough to go with every outfit and trendy enough to pass as more than just a sneaker. Crop tops. One of the most popular stores for teenagers to shop at is Brandy Melville, where there are tons of crop tops and cropped sweatshirts to choose from. "Mom jeans" or loose-fitted, high-waisted jeans are all the rage. Ripped, dark-washed, or light-washed high-waisted jeans are a staple in many teenager's closets. Lastly, oversized t-shirts (or really, oversized anything) are making a splash in our 2017 fashion culture. Oversized graphic band t-shirts are commonly sold at Brandy Melville, among other popular teen retail stores. All of these pieces show us that "Groove Is in the Heart"… and in the 90's.
I decided to break down the hairstyle trends into buns, bobs, and braids because these styles are the most common 90's revivals I see. Space buns or double buns are basically two little donut buns on either side of the head, and they are trendy for days. Next, the a la Drew Barrymore bob. This short cut meant business back in the 90's, and today the bob/ lob (long bob) is making a comeback. I, myself, tried out the lob and definitely don't regret it. Braids helped add to the edginess of many hairstyles, like incorporating thin braids into a messy, wavy, half-crimped, half-not do. Today, double french braids, cornrows, and/or small braids in a wavy style are popular in daily life and at music festivals or other events. The trends don't just end here. There are so many accessories that are prevalent in 2017 fashion culture that we must thank the 90's for. The choker. I personally own about ten chokers and I wear a choker with almost every outfit just to spice it up and add edginess to an otherwise casual look. Chokers are very popular among high school and college aged students, as are hoop earrings. Hoop earrings add an element of edginess and style to any look. Hoops can be worn casually or they can be paired with heels for a fun, yet trendy, night out. Small hoops, Adidas sneakers, high-waisted jeans, and a choker… you're set and dressed appropriately to flashback to the 1990's.
So there you have it! Viva la vida 90's. Almost 30 years has nothing on fashion; these trends are timeless and so are you!
About the Writer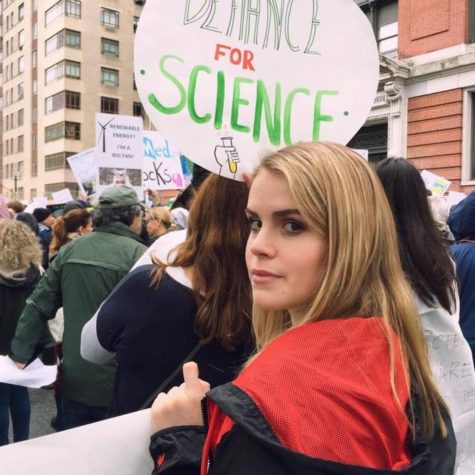 Laragh Cronin, Editor
If lost, can be found With Her