TRENDING NOW: Athleisure
Hang on for a minute...we're trying to find some more stories you might like.
Something in fashion that is trending more than anything right now? Athleisure wear. The sporty yet fashionable style has been seen everywhere: from the halls of JJHS to the streets of NYC. Yes, athletic wear has been available for a while now, but the recent styles that stores like Lululemon, Adidas, and Nike have been debuting have caused the sporty style to blow up. When I say "Athleisure wear", I am referring to the athletic and cute go-to style that is popular among nearly all women right now. Starlets such as Gigi Hadid, Kylie and Kendall Jenner, and Bella Thorne are only a few of the many that have been spotted rocking this look. Items such as bright athletic tops, patterned athletic leggings or yogas, and workout footwear all qualify as being part the popular "athleisure" style.
Most girls take part in this athletic and popular look, but some tend to move away from this style because of one thing: the cost. Never fear, I'm here to show you the best places to find this comfy yet chic style for less! The thing I love most about this look is that the new athletic designs and fits are incredibly cute and flattering. They are also items of clothing that you will want to wear literally everywhere, everyday. Flattering, pretty, and comfortable. What more could a girl ask for?
This athleisure look starts off with the cute and colorful tops. These tight athletic tops are being produced pretty much everywhere, but the name brand places to find them are Lululemon and Nike. Lululemon is one of the most popular stores right now, selling tons of adorable workout tees that comes in an abundance of amazing colors for any season! Though Lululemon's options are great, they may not be affordable for everyone. Luckily, places such as Target, Under Armour, and Champion, sell very similar items for almost half of the price! With the same bright colors and flattering fit, it's so easy to get these adorable tops at a lower price!
Now, we move onto the bottom half of our sporty look. Lululemon and Nike also sell adorable, great quality leggings that everyone is currently loving. However, the Lululemon leggings are sold for about $100. The patterns, colors, and fit are super cute, yet the leggings prove to be very pricey. Alternate stores like Under Armour are selling extremely similar items at way lower prices! Under Armour's adorable leggings come in at $50. There is no reason to be breaking the bank to wear this look! And as an Under Armour legging owner myself, I can honestly say that it is the most useful $50 I have ever spent. I can proudly say my Under Armour leggings have already lasted me three years!
To wrap up our stylish look, we move onto the sneakers. Adidas are all the rage right now, and their most popular style is the women's "Superstar Shoes". These sneakers are absolutely perfect to wrap the whole look together. Though they run at about $80, these shoes are guaranteed to last for years and can go with nearly anything. Other popular stores to get some stylish sneaks are Nike and Vans. Particularly, Nike Free Runs are great quality shoes that exemplify comfort and style.
There are hundreds of stores that sell this popular athleisure look for less. The items can be seen in numerous different versions and styles! Whether you want to shop at Lululemon or Target, this look looks amazing on everybody! And no matter what, there are stores that carry this look within your price range. So get to your local mall and search for some athletic staples! I promise, you won't be disappointed. Happy shopping!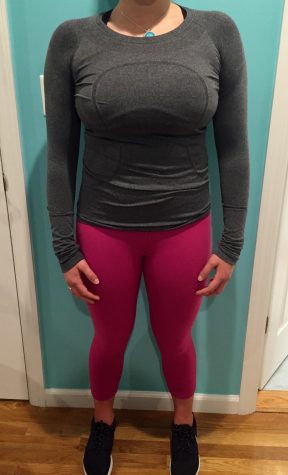 Pictured: Juliette Garofolo (sophomore) rocks the athleisure style!