Much Love for the Bean Boot
Hang on for a minute...we're trying to find some more stories you might like.
In 1912, L.L. Bean struck gold with the Bean Boot, and I am sure that the JJHS student body would resoundingly agree. The once outdoorsy brand finally became the biggest trend that everyone wants a piece of. L.L. Bean is commonly known for the unflattering, unglamorous, yet practical clothing. From fishing gear to being a hiker's paradise, L.L Bean's got it all, but the biggest prize of all is hidden in the boot. You're probably wondering why this boot has caused such a craze. Well, here it is: the secret wonders of the Bean Boot, finally revealed.
The Bean Boot is one of the most versatile shoes known to man. It is almost indestructible, waterproof, warm, and stylish–accommodating all of your winter shoe necessities. You can also buy the boot with insulation, which ensures that your feet stay toasty all day long in the harsh winter.  Not only can you wear the Bean Boot when there is a fresh layer of snow on the ground, but also when it raining, or even as a transition shoe from season to season. The Bean Boot is the most practical, versatile shoe anybody could buy.
I know it may seem incredibly insignificant, but the Bean Boot can be laced in a number of ways, and the laces are certainly a key part of the overall style. You can simply tie them in a bow, but most choose to lace them up into the Eastland knot. This knot requires a simple twist of the laces one time, so you never will have to tie them again. This knot allows for a quick and easy slide-on shoe that will never cause any issues.
The Bean Boot has sold out every year since 2011. L.L. Bean reported having had 100,000 back orders last holiday season, and each year the L.L. Bean manufacturers have had to disappoint many of their eager customers with the news that their shoe will not restock until April. But it is totally worth the wait! Each Bean Boot is carefully handmade, and if you are disappointed with the quality of your boots, you have a lifetime warrantee. The customer service is off the charts, accommodating everyone's needs. L.L. Bean continues to expand its Maine manufacturing center to prevent another Bean Boot shortage, but it seems impossible to produce the boots at the rate at which they're bought. But there's more, they will even thank you for your patience by rewarding you with an adorable little Bean Boot keychain, perfect for your backpack. It's true, the Bean Boot has created an unstoppable craze.
The love of the shoe doesn't stop there, as Bean Boots will go with any outfit. It is the perfect shoe for any type of day. For girls, with leggings and a comfy sweatshirt or sweater, the bean boot ties the outfit together. As for the guys, Bean Boots go great with khakis or sweats and a cozy flannel. Anyone can wear it with anything, and isn't that what anyone would want in a shoe?
The Bean Boot is a shoe sensation. If you don't already own a pair, hop online right now and place an order. Bean Boots are certainly worth the backorder, as the shoes last forever and can be worn with almost anything. Bean Boots are one of the most reliable and stylish shoes this year and are worn by the majority of the JJHS student population. Join the Bean Boot craze!
About the Writer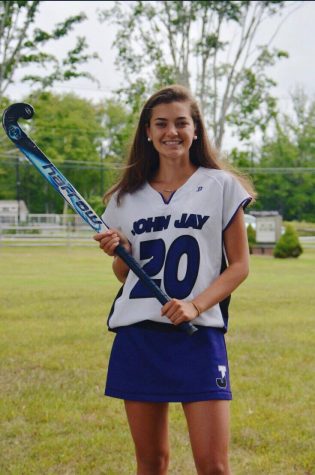 Leigh Neuburger, Arts/Fashion Editor