John Jay Drops Regular Season Finale in Back and Forth Affair Against Mahopac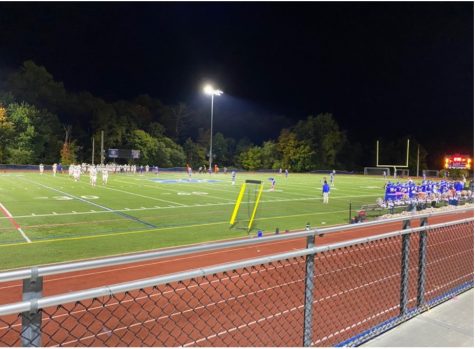 After an electrifying home win over Eastchester last week, John Jay controlled their own playoff destiny going into their week 6 matchup against the Mahopac Indians.
After a pregame Senior Day ceremony featuring fireworks, the Indians continued the fireworks early as Senior Phil Colbrook picked off John Jay quarterback Craig Galea and returned it for a touchdown.
After a poor throw to start his night, Galea rebounded by connecting with key receivers Austin Zaccagnino and Chris DiChiara and moving the ball into Mahopac territory. Facing a third down and medium scenario, Galea scrambled for a first down before handing the ball off to Christian Shapiro for a 2-yard touchdown run.
After a forcing a Mahopac punt on their next drive, John Jay went back to their star from last week as Shapiro ripped off a 65-yard run. After setting up shop inside Mahopac's ten-yard line, Galea connected again with DiChiara on a slant route for a touchdown, giving the Wolves the lead.
This lead was short lived however as Mahopac star running back Joey Koch went to work putting the Mahopac offense on his back. The senior took his team down the field and punched it in the end zone to tie the game at 14.
After effectively moving the ball downfield, the Wolves offense stalled as Danny Koch intercepted Galea inside the redzone. Mahopac then turned to quarterback DJ DeMatteo who used his arm and legs to move towards the goal line. After being stopped on third down, DeMatteo scrambled on fourth for a touchdown to grab the lead.
The Indians once again forced a John Jay punt which gave them just enough time to march downfield and find the end zone before the half. Joey Koch once again was a main character on this drive catching a pass for twenty yards and punching his last run in for a touchdown.
After going down two scores at half, John Jay knew they had left points on the table and looked to rebound. Senior Gerard Garofolo told the FOCUS, "We know if we keep grinding we are going to come back in this game."
With John Jay set to receive the second half kickoff, they needed to turn the momentum in their favor. After setting up shop at their own 35, John Jay turned to Shapiro who carried on four straight plays. After a Galea pass was caught by Zaccagnino for 30 yards, Shapiro carried two more times, the latter of which resulted in a score. Looking to add on, Coach Joe Candarelli called on Galea to attempt a two-point conversion. The senior quarterback once again connected with his star wide receiver as Zaccagnino for the two-point score.
After attempting to scramble for a first down, Mahopac's DeMatteo took a hit by John Jay linebacker Michael Mendicino and went down. After limping off the field to rousing ovation, Danny Koch entered as the new play caller. With his brother now joining him in the backfield, Joey Koch looked to take the game over after a big run. However, an offensive holding penalty brought back the gain and the Indians would be set even further back after sophomore Tommy Machado tackled Koch behind the line of scrimmage. After initially forcing the punt, John Jay's special teams unit was flagged for roughing the punter, giving Mahopac a new set of downs. Mahopac again turned to Koch to put it in the end zone for his third touchdown of the game.
Entering the fourth quarter down by two scores, John Jay knew they needed a big quarter to ensure themselves a playoff berth. Needing a quick score, Galea facing heavy pressure and just barely got the throw off. DiChiara showed off his ball skills making an incredible acrobatic catch to move the chains. The Wolves then simply handed off to Shapiro for three straight plays, putting the last one in the end zone.
Shapiro was once again in the middle of the action, sacking the Mahopac quarterback forcing a punt. He then ripped off a 45-yard touchdown run, stunning the home crowd as John Jay took a 37-34 lead.
After DeMatteo's injury, the Indians offense relied mostly on the ground game. This all changed as the backup quarterback Danny Koch connected with a receiver downfield for a 40-yard touchdown pass.
With Mahopac holding the lead with under seven minutes to play, John Jay needed to have their best drive of the season to give themselves a chance. The drive got off to a rough start after an incompletion and a fumbled snap led to a loss of yards. Galea rebounded however, connecting with Zaccagnino on third down. At midfield, Shapiro took it to the house for another touchdown, adding just another crazy moment to an already crazy game: John Jay 44, Mahopac 41.
Despite John Jay's lead, the Indians hoped to have time to get downfield and find the end zone one final time. They did just that, once again leaning heavy on the Koch brothers out of the backfield. After a holding penalty set them back to start the drive, the Danny Koch strung together a series of successful quarterback runs to set up his team in prime field position. With about 50 seconds to play, his brother Joey took it in from the 1-yard line giving Mahopac a lead with under a minute left.
On one last effort to steal this game, Galea and Shapiro put together three consecutive plays before getting out of bounds and stopping the clock. With six seconds to play, Galea took a shot at Zaccagnino in the end zone, but for the third time, was intercepted. This time it was Owen Ryan picking it off, sealing a win for the Indians.
After a win would have clinched a postseason spot, John Jay faithful and players alike will now be scoreboard watching during their bye week as they face a three-way tie with Mahopac and Eastchester.
Leave a Comment