Buccaneers Outlast Chiefs in Lopsided Superbowl Affair
The stage was set in Tampa Bay, Florida, home of the Buccaneers, taking on the Kansas City Chiefs in Superbowl LV. Both teams had been preparing mentally and physically to hopefully be crowned as the champions of the world.
Following a successful 11-5 season, the Buccaneers secured a wild card spot in the playoffs. Prior to advancing, the Buccaneers defeated the Washington Football Team, the New Orleans Saints, and the Green Bay Packers.
Despite a dismal 7-9 season, the Buccaneers added some key components to better their team. The biggest addition was undeniably six-time champion Tom Brady. Brady had spent his entire 20-year NFL tenure with the Patriots, before signing with the Buccaneers during the 2020 off season. Legendary Tight End Rob Gronkowski, elusive wide receiver Antonio Brown, and hefty running back Leonard Fournette all followed. The Buccaneers had compiled a star-studded offense with returning wide receivers such as Mike Evans and Chris Godwin. Ronald Jones helped carry the backfield as well and finished the season with franchise records in passing touchdowns and receiving yards.
As for the Chiefs, it was repeat season. The team was victorious in Super Bowl LV, narrowly beating the San Fransisco 49ers 31-20. The team finished 14-2 behind star quarterback Patrick Mahomes and receivers Travis Kelce and Tyreek Hill. In the playoffs, the Chiefs beat the Cleveland Browns and the Buffalo Bills to advance to Super Bowl Sunday.
As the ball was kicked, fans (and 30,000 Life-size cutouts) roared filling the stadium with electricity. From that point on, it was all Buccaneers. Tom Brady finished the game with 201 passing yards, 3 Touchdowns, and Superbowl MVP. Brady had won his 7th ring (more rings than any franchise), and his fourth Superbowl MVP. He received help from Leonard Fournette who ran for 89 yards and a touchdown. Brady found his all-time favorite targets, Rob Gronkowski, twice in the end zone and Antionio Brown, once, propelling them to a 31-9 victory.
The Buccaneers' defense did an incredible job containing Patrick Mahomes' electric offense, which had exploded all season, to 350 yards and no touchdowns. LB Devin White led the way with 12 solo tackles and one interception. Antione Winfield also had an interception. The Buccaneers were also able to sack Mahomes three times. Ndamokung Suh had 1.5 of these sacks. The Buccaneers DB's did a great job holding the chief's receivers to 250 passing yards.
When the clock struck zero and the confetti filled the air, Buccaneers fans rejoiced. 18 years after their first victory, the Buccaneers have won their second.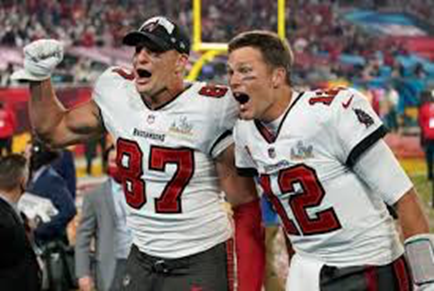 Image from Alicia Stone
Leave a Comment
About the Contributor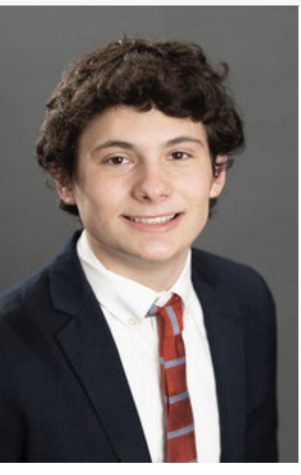 Doug Styles, Sports Editor
Writer, Hockey Player, Avid Sports Fan