SPORTS VS. COVID-19
It has been well over a month since school was originally postponed, calling an unforeseen end to all spring sports.  All sports teams were shut down- from Little League to High School Sports and at College and Professional levels.  At the high school level, the spring season for sports such as baseball, lacrosse, and tennis ended abruptly and only days after tryouts concluded.  The annual baseball trip to Disney World was cancelled for the first time ever- for 17 years baseball teams from around the country met there during spring break to compete. The annual trip to "States" for the John Jay frisbee teams was canceled. I asked senior varsity baseball player for the Indians, Michael Giardina what he will miss most about the season. He said, "I will miss the away bus rides to and from games because that's where we bonded the best as a team sharing stories and constantly laughing". For most seniors, their sports careers are essentially over, ending in a disappointing way. 
For sports fans across America,"March Madness", the annual NCAA men and women basketball tournaments were also canceled and this started a chain reaction that cancelled the rest of collegiate spring sports.The NCAA has granted seniors another year of eligibility to come back and play another year. Now, there are some worries that even fall sports for the 2020-2021 season are in jeopardy as well.
One month ago, the MLB was supposed to start and since then there have been countless rumors of possible situations where the MLB could resume. One idea was that every team would play in Arizona, isolated from their families for four months with harsh but understandable restrictions on what the players are allowed to do. Another idea was to bring back the "Grapefruit" and "Cactus" leagues where there would only be two leagues, one in Florida and one in Arizona.  Both of these ideas are just some of the possible ways for the MLB to have a season sometime this year. In other sports, the NBA is hopeful they can conclude their season as the playoffs were set to begin and would be in full swing now.   
The only sport that hasn't truly been affected by the virus yet is the NFL. Saturday concluded the first ever virtual draft where the commissioner announced the picks from his basement, and families set up cameras within their homes so they can show the fans their reactions to getting drafted. Both the Giants and Jets selected offensive tackles in the first round to help protect their superstar running backs Saquon Barkely and Le'veon Bell and franchise quarterbacks Daniel Jones and Sam Darnold. 
The world has never experienced a time like this and sports are usually the distraction society needs to take our minds off what's going on in the world. We can't play sports or watch live games on TV, and we won't be able to be fans at our beloved stadiums and arenas for who knows how long.  For now, we have no choice but to turn on the TV and watch reruns of classic sports games. There's also the new documentary "The Last Dance", telling the story of Michael Jordan's career keeping sports fanatics entertained for the next three weeks. 
Eventually, we will get back the thing we all miss and love, sports. Together as one nation, as one community, and as one team we can win the fight against the invisible and life-changing opponent Covid-19.   
Leave a Comment
About the Contributor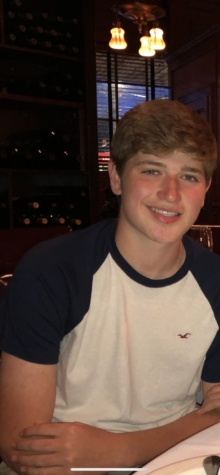 Jeffrey Alper, Sports Editor