Got Movies?
What Genre are you Feeling on your Friday Movie-Night?  Here are the Top Nine Movies you Got to Watch.
Aquaman (Fantasy/Super Hero)
Looking for a movie that takes your breath away, literally!
Aquaman dives its audience into a never before seen adventure of the underwater metropolis of Atlantis.  The film encompasses a touching story of self-realization and the power behind family and loyalty. At the center of the story lies self-becoming and bold protagonists and antagonists which add to the depth of this hero-becoming story.  From insane special effects, creative dimensionalizing of comic work, and lovable characters, Aquaman washes up a powerful story behind land and sea.
Testament of Youth (Historical Drama)
Want to step back in time and live the dynamic of history and gender roles you thought was so distant?
This historical drama, based on the true-life story of Vera Britain, uncovers the reality behind World War I's (WWI) lasting effects.  The film surrounds the war's harsh reality at home and on the battlefront. Told by a woman who, from her teenage years, faced the brutal force the war has in tearing away the innocence and peace of her home and the ones she loves.  WWI's irrevocable effect on both mental and physical trauma and loss is harshly, yet importantly reflected through every scene of this film. Viewers will experience a film that touches the heart of both men and women who are universal subjects to war.
Star Wars (SciFi)
If you are the person to imagine jumping into a lightspeed spaceship and into the galaxy, here is a series you have to watch!
You all have heard the classic theme songs of this epic-space adventure!  Star Wars touches upon dramatic space effects, comic relief, and contagious characters who truly bring you into a "galaxy far far away."  Starting with the original trilogy created by George Lucas, these films have crafted a mesmerizing world of distant planet-life and technological advancement which carefully blends a family drama with the battle between good and evil.  This franchise sets the mark for a pop-culture phenomenon with its creative plots and creatures that paint an unordinary world throughout the film.
Mission Impossible (Action)
Are you the person to use your flashlight as lasers and crack codes?  Then this movie is sure to give you a mystery to tackle!
The Mission impossible film series offers a thrilling and comedic adventure.  From dramatic car chases and helicopter flights to intuitive technological strategy and undercover operations, these films truly place the audience on the edge of their seats.  A classic cast mixed with insane special effects brings both a humorous and dynamic expedition to the Spyworld that captures the essence of suspense and climax. The series encompasses new missions on global forefronts, creating a new world of gripping action every time.
Beauty and the Beast (Family)
Want a movie that lets you sink into a world as your very own princess or prince after a long day at the office or even for a family night that sets your Disney nostalgia loose?
This 2017 remake of the Original classic, Beauty and the Beast, falls nothing short of crafted beauty, visually stunning, and a telling story of romance and fantasy.  A family movie that blends delicate scenery and exquisite costumes with quirky characters and contagious songs.  The film goes beyond the simple characterization and set pieces, and instead, offers a deep and dynamic story that centers around a delicate sentiment and an inspiring hero.  Beauty and the Beast encompass bold characterization and vital life-messages that touch the hearts of the audience.
Roman Holiday (Romance)
Are you the person to imagine yourself on a rendezvous in Rome with your tall, dark, and handsome?
Romantic, funny, timeless.  This film takes the audience on a charming adventure through Rome with two lovable characters, a princess and a journalist.  Adventures through the husting Roman piazzas, Vespa chases with the police, and coffee-shop brawls, the film is both entertaining and dynamic.  With Audrey Hepburn and Gregory Peck at the center of this bitter-sweet love story, the audience is destined to absorb emotional and breathtaking performances. Mixed with quirky cultural hints, exuberant expeditions, stunning scenery, and playful comedy, the film is yet another Hollywood classic.
Gone With the Wind (Drama)
Are you the person to imagine themselves jumping back in time into a Victorian dress or maybe a soldier's uniform?
This civil war drama is undoubtedly one of Hollywood's most memorable films.  The story encompasses the hardships of both men and women during the war and Reconstruction that blends a romantic drama, rivalry, and restoration of one's home.  This drama portrays spoiled, charming, loyal, and bold characters that steal the audiences' hearts. Through a perfect combination of comedy and reality, Gone With the Wind expresses the truths behind racial tensions, personal sacrifice, and war-torn homes that continuously keep the audience is engaged.
Bringing Up Baby  (Comedy)
If you are the person to want to sit back and enjoy a movie that sets your laughter on repeat, then tune into this comedy!
An all-around lovable and hilarious film.  Starring Cary Grant and Katharine Hepburn, this screwball romantic-adventure mixes quirky characters and a ridiculous, yet engaging plotline centered around how a leopard finally brought together two lovers, a paleontologist, and a high-spirited woman.  The film holds a laugh in every scene whether it is from comic car scene runaways to boisterous backyard search parties. This film perfectly encompasses characterization and settings which add to the airy-romantic mood.
Rebel Without a Cause (Teen)
Are you the person to wear gel in your hair or sing and joke around with your squad?
Just another iconic James Dean-classic.  This film breaks traditional Hollywood and sets the stage for a movie that centers around the age of youth and maturity.  A riveting plot strengthened by unique and powerful characters and themes offers a nail-biting film.  Emotional breakthroughs, friendship virtues, and one's moral compass are all at play in Rebel Without a Cause that creates teenage angst that keeps the audience alive.  Through car races, fights, and romantic revelations, an inspiring and dynamic sense of youth is empowered onscreen and opens the door into findings one's belonging.
Leave a Comment
About the Contributor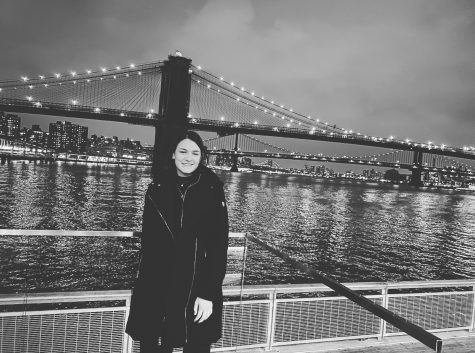 Ashley Stagnari, Editor-in-Chief