PROMise it Will All Work Out
Hang on for a minute...we're trying to find some more stories you might like.
Picture this, girls. You are surrounded by an array of freshly done perms, the odor of hairspray filling the air of your bedroom. Your parents await below, wondering impatiently when they will hear the clicking of your high heels trailing down the stairs. Before you know it, you and your crew are being bombarded by the blinding flashes of Kodaks and Polaroids, as you stumble onto the front lawn in a haste where a swanky black limo is waiting for you, along with your "perfect" date and his friends.
Tonight will be magical for you. You will walk into an under-the-sea themed school dance where you'll sway to those cliché melodies custom to this event. It is here that you will reside for the next two hours or so: in an overheated, overcrowded gym, alongside your date, who, at some point, may begin profusely sweating, not about the dance itself, but rather, what might be happening afterwards…
This was prom. In 1985, maybe, that is. Has much really changed, though?
Well, the year is now 2018. Technology has brought the addition of "promposals" presented via social media. Methods of "popping the question" have shifted slightly, where people will initially ask their targets as indirectly as possible to avoid embarrassment. To ensure high probabilities of acceptance (and we're not talking about college here, juniors), people on the asking end will often resort to Snapchat messaging, in efforts to "feel out" dates for themselves, or potential ones for friends.
So yes, there have been a few minor changes over the past couple decades, but ironically, themes of the infamous high school dance have remained relatively the same.
This is Junior Prom, and the plethora of emotions that come with it.
The supposed "magical" night is looming ahead IRL. As girls, we type hastily in the notorious prom dress group chat, which has been active since December. Sending pictures of our options on the daily, we typically caption posts first with a general nod of approval to everyone's choices thus far, followed by a collection of about a dozen dresses, none of which we'll probably end up wearing anyway, but we still just want to hear everyone's ~thoughts~
Regarding the fluidity of the dating scene (everybody knows, but nobody really knows, says Ila Rosen, Junior), there is never a dull moment. Rumors spread at the speed of light through the halls of our high school. With promposals, if you didn't catch it the first time, there's always Facebook to keep you updated.
The ambiguity of preprom and afterprom is yet another topic on everyone's minds. Oftentimes, it's simply a question of who do you please with these types of things, your friends or your date?
For the many of us taking on JProm, we are venturing into unfamiliar territory. Not too long ago did we assume our role as upperclassmen, in which we developed the collective, active voice that the Class of '19 has today, one that is prominent in our school and community.
Nonetheless, as juniors, we continue to balance our course loads, standardized testing, and learning how to drive, all behind the scenes. Someone looking in from the outside would probably be astonished at how we manage to juggle it all. But real talk, now more than ever, who we're taking to prom just seems to be one of the more pressing issues for many us.
And in 19 days, some of us will find ourselves amidst preparations for the highly-anticipated event, and others will abandon the controversial "night-to-remember" altogether.
But, whatever our decision ends up being, the night will pass, we'll scroll through our Instagram feeds for the few days after looking at photos, and then our lives will resume as before. We'll begin studying for finals as the notorious Hell Year will finally come to its dramatic conclusion. Our summer will begin shortly after and before we know it, the Class of '19 will claim official ownership of the senior rail once and for all: our final year of high school will begin in the blink of an eye.
With prom, while it is beyond easy to get caught up in the moment, it is key to remember this timeline as a reality check. We can picture that image of where we'll be standing about a month and a half from now.
So, on May 19th, whether you do find yourself bombarded by excited mothers taking photos of you and your date on their iPhone cameras, whether you end up riding solo and ~evacuating~ the dance floor with a bunch of friends, or you decide to skip out and spend the night doing something else completely, life will go on. It'll be another May 19th for the books, we'll all return to school the following Monday, and everything will be fine. In fact, as cliché as it might sound, I PROMise it'll all work out in the end!
About the Writer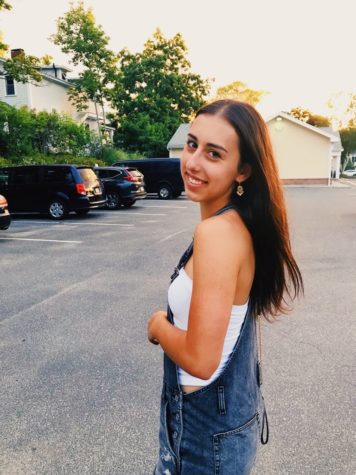 Zoe Roskin, Editor
foodie and Netflix fanatic