TV Review: Season 9 of Larry David's "Curb Your Enthusiasm"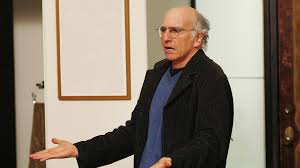 Hang on for a minute...we're trying to find some more stories you might like.
After a long 6-year hiatus, Larry David's post-Seinfeld HBO show Curb Your Enthusiasm finally returned to TVs nationwide on October 1st.  Running under the promotional slogan, "He left. He did nothing. He returned," a spoof on Julius Caesar's famous remark, fans of the show had numerous questions. Would the new season adapt to the changed media landscape? Will David take any swings at the Trump administration? Will the new season be fresh while still maintaining its roots? The answers to these questions are no, no, and somewhat. However, this may be just what the populace needs to see.
The season-long arc follows Larry as he attempts to produce a Broadway musical called Fatwa!, based on the 1989 death sentence of author Salman Rushdie for the publication of his book, The Satanic Verses.  However, Larry makes the mistake of performing an impression of the Ayatollah, the title given to the highest-ranking Muslim (the Muslim in charge of issuing fatwas), while promoting the musical on Jimmy Kimmel Live!, resulting in a fatwa being bestowed upon Larry. The pilot episode sets the scene for the rest of the season, in which Larry disguises himself from devout Muslims and even appeals to an Islamic council, all to ensure his musical hits the stage. This plotline seems incredibly more radical than Curb plots of the past, and gives the new season a more absurdist tone, which makes it more confusing. In previous seasons, viewers were able to clearly understand the essence simply: Larry committing numerous faux pas and rebelling against specific social conventions.
Like the previous seasons, Larry is joined by favorite characters, from manager Jeff Greene (Jeff Garlin) and ex-wife Cheryl (Cheryl Hines), to Jeff's wife Susie (Susie Essman) and Leon Black (JB Smoove), Larry's quick-thinking and blunt roommate introduced in season 6.  Additionally, frequent guests such as Richard Lewis, Ted Danson, and Mary Steenburgen appear as fictionalized versions of themselves. A notable performance comes from Essman this season, as she provides the bulk of the conflict (and resulting humor) with Larry when Hines' character, who takes a minor part in Larry's life due to the divorce, does not make her sporadic appearances. For the cast, what may be a pressuring environment of high expectations brought on by the long hiatus turns into a free-flowing, fun, and creative environment for them as the cast's humorous improvisations shine. This translates to a relaxed tone and suggests more of the same, if not with greater creativity.
Regardless of the outrageous plot, the show is always able to include scenes of Larry being Larry. For example, Larry manages to offend Richard Lewis by not showing enough empathy after Lewis' parakeet passes away, argues with hotel staff over their policies on using tongs to take cookies from a tray, inadvertently causes the death of the nephew ("The jewel of the Funkhouser family") of recurring character Marty Funkhouser, telling a country club gate attendant of his desires to "restart" their relationship to avoid talking to him, and agreeing to retrieve Hamilton tickets for an oyster shucker so he won't tell others that Larry slept through a production of the popular musical. A notable situation occurs during a rehearsal for Larry's play where Larry accuses one of the stars, F. Murray Abraham, of "outfit-tracking" him after Abraham observes that Larry has worn the same pants two days in a row.  Larry then uses this as material for a scene change in Fatwa!, further angering Abraham. This moment in particular provides a hilarious look into how Larry finds material for Curb, along with the previous shows he has written for. All of the little moments, screw-ups, and faux pas focus on capturing the daily minutiae that everyone can relate to, which only helps to attract fans and increase the popularity of Curb.
All in all, season 9 of Curb Your Enthusiasm proves to be adored by fans of the show, even if it is just more of the same. Season 9 manages to contain Larry's daily minutiae in the expansive and absurdist plotline while providing creative content from the main cast.  Furthermore, real-life Larry has said many times that he only returns to Curb when he feels like it, meaning that everything that Larry puts out is original, and inevitably comical.  To sum up, Season 9 of Curb Your Enthusiasm can be described as "pretty, pretty, pretty good."