AP Spanish Takes On Mandarin
Hang on for a minute...we're trying to find some more stories you might like.
On December 6th, during 1st period, AP Spanish students had the chance to video chat with a Mandarin-speaking teacher from Beijing, China, and learn the basics of the language. This lesson was introduced because the John Jay administration is debating whether to introduce Mandarin as a language for middle and high schoolers. I guess you could say we were the guinea pigs. An ambiguous "Mandarin Lesson" had been penned into my calendar for weeks prior in anticipation. We all filed into the classroom that morning to see some unfamiliar faces, as some administrators wanted to sit in on the lesson. It was like we were having a keynote speaker in B wing. There was a laptop with a camera set up at the front of the room, which was connected to the Smart Board, so we could easily see and talk with Nicki. When we first started the video chat it was around 8:20 am for us in Cross River, whereas it was dark out (around 9:20 am) where Nicki was. She panned her camera to her window, which overlooked the city of Beijing. It was fascinating to be able to talk to someone 7,140 miles away and get a glimpse into her life.
Nicki started the lesson by teaching us a little about China, Mandarin, and some of the traditions in China. We learned about China's massive population (about 1.4 billion) and got to see beautiful photos of the geographically diverse North, East, South, and West of China. Nicki had us repeat three take-aways from this mini-lesson: Tall buildings, lots of people, lots of cars. Then we went on to learn basic words and phrases, such as, "Hi," "My name is," "How are you?" "Thank you," "You're welcome," and "Goodbye." Nicki introduced us to her two friends, the kangaroo and the panda (two stuffed animals), to help us learn dialogue. We continuously partnered up with people around us and exchanged our new knowledge.
Greeting people with "Nǐ hǎo" for the rest of the day was very amusing. My fellow AP Spanish student, Mariana Barcena, and I stood in the hallway saying "Thank you" in six different languages. Just spending forty minutes with Nicki made us feel like we were fluent, which we so aren't. I never would have thought that at 8:20 am on a Wednesday morning I would have the chance to travel the world and learn a new language.
I think that it is a great idea to introduce Mandarin to John Jay. Unfortunately, I won't be around to see it happen, but I do know I would've loved that option. I know many students at John Jay who are either interested or fluent in Mandarin/ speak the language at home. For the students who maybe already know Spanish, French, or Latin, or prefer to learn more about the rich history of China, Mandarin would be a great option. I think it's extremely important to get students in Cross River connected with a culture that is very different from ours and bridge that gap.
谢谢,再见!
 Attached is a video of 12th grade students Reilly Grzywacz and Katie Ricca (left to right) practicing the language. 
About the Writer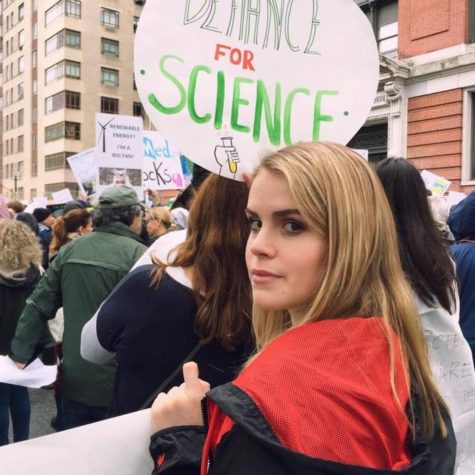 Laragh Cronin, Editor
If lost, can be found With Her