New York Knicks 2022-2023 Season Preview
After a surprising 4th seed finish in 2020-21, the Knicks followed up with an underwhelming 2021-22 season, finishing as the lowly 11th seed with a 37-45 record. In the upcoming season, Tom Thibodeau and the Knicks will look to get back on track and into the playoffs. They will continue to develop their young core while the veterans set the tone and get the majority of the minutes.
Led by former NBA Most Improved Player (MIP) Julius Randle, the newly paid RJ Barrett, and newcomer Jalen Brunson, the Knicks will look to exceed their expectations of 39.5 wins (Caesar's Sportsbook) and receive a play-in tournament spot or better. When Barrett was asked about the Knicks upcoming season, he responded saying, "A lot of guys have something to prove, myself included. I've got everything to prove. We're really coming with that mindset and definitely think we can shock the world." Shocking the world will be a tough task, but, it seems like many are underestimating the Knicks at this point.
With the addition of Brunson in the offseason, the Knicks have themselves a true franchise point guard for the first time in just about 20 years. Yes, 20 years. Brunson is not just your average point guard either. He can distribute the ball all over the court, averaging 4.8 assists while also dropping an average of 16.3 points per game. Occasionally, he can explode for upwards of 40 pts as we saw in last season's playoffs with the Mavericks. Also, now that he is with the Knicks, he doesn't have to be in the shadow of an elite player like Luka Doncic, allowing him to have more freedom in his game. Thibodeau spoke highly of Brunson stating, "What I like about him is that whatever the game needs, he can provide". He will end up paying huge dividends for the Knicks this season.
As for RJ Barrett, he is looking to show why he was worth his 4year/$120 million contract. At only 22 years old, last season, RJ Barrett averaged 20.0 ppg, and this year he will look to improve upon an already solid number. RJ is the kind of player that is willing to put his head down and work, and it is easy to see that he is built for New York. This could truly be his breakout year.
One big question mark for the Knicks this year is the production that they will be able to get out of former MIP Julius Randle. Although he quietly averaged 20.1 ppg last season, he fell into some of his old poor habits of 2020. The organization and the fans know what he is capable of, and he just needs to put together a solid season where he is able to be a part of the team. He has shown that he can be an all-NBA level player, so we know that he has it in him. Brunson should make his job a bit easier this year, so we will see what he is able to accomplish. If he can get back to the player that received MVP chants, that would be a huge plus for this team.
The Knicks had other major moves this offseason, most notably resigning center and Katonah resident Mitchell Robinson to a 4 year/$60 million contract. Robinson is a key piece and has always averaged one of the highest number of blocks in the league and is a huge lob threat at 7'0" tall. Leon Rose and Scott Perry also decided to bring in solid role players such as Isaiah Hartenstein who is a high IQ player who can drop key shots and shoot from the perimeter.
Lastly, the Knicks have a promising young core, and this could be the year that some of them truly break out and come into their own. Coming off the bench will be former first round pick Immanuel Quickley who is a very 'quick' point guard that specializes in the floater and pulling deep threes, the exciting Obi Toppin, a dunk contest champion, Quentin Grimes who specializes shooting the three-ball, Cam Reddish, an athletic forward and former Duke teammate with Barrett, and Jericho Sims an athletic forward who can jump out of the gym. One of the first off the bench will be someone who is actually the opposite of young, but he looks to be in as good shape as ever, and that is former NBA Most Valuable Player, Derrick Rose, who has been with Thibodeau almost his entire career, so you know he is going to be getting as many minutes on the floor as his knee can handle. The quality depth that the Knicks have will be a huge bonus as the season progresses.
The Knicks will most likely open the season with the floor general Brunson, along with Evan Fournier, a career 38.1% 3-point shooter in the backcourt, and Barrett and Randle will hold the forward slots next to Robinson, often called the "Blockness Monster" at center. this team has a good chance to prove many of the experts and fans wrong.
On October 4th, the Knicks played the Detroit Pistons in the preseason opener and the squad played well together. Everyone was getting involved, as Barrett led the scoring with 21 points in only 23 minutes, Brunson dropped 16 pts in 20 mins, and Randle scored 15 pts in 18 mins. There is lots of optimism for the season right now for the New York Knicks. If this season goes well, it could be a building block to possibly landing a star in free agency, and then becoming a legitimate contender in the not too far future.
The Knicks open the 2022-23 campaign in Memphis against Ja Morant and the Grizzlies on October 19th followed by the MSG home opener versus the Detroit Pistons on the 21st.
Leave a Comment
About the Contributor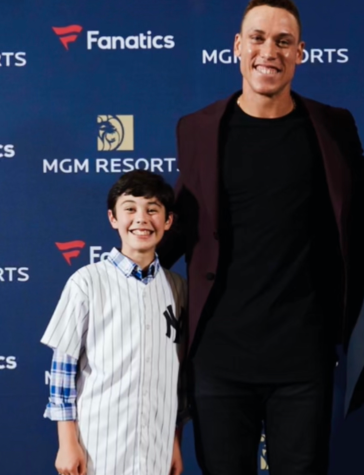 Colby Cotrone, Staff Writer
John Jay FOCUS Sports staff writer and optimistic New York Giants, Knicks, and Yankees fan. Don't Judge me, Aaron is 6'7".