Who Should the Giants Draft?
It seemed like just a normal Tuesday in the NFL on March 12th of 2019. Many teams were spending large sums of money on players who will most likely be on the trade block in a few years. Many fans of the New York Giants were voicing their concerns at General Manager Dave Gettleman for holding back on a large spending spree. There were glaring holes throughout the roster after seeing players like Landon Collins, Damon Harrison, Eli Apple, Oliver Vernon depart within the past year. But then lightning struck in New York City on that average Tuesday when it was announced that in a shocking move, GM Dave Gettleman agreed to a deal sending star wide receiver Odell Beckham Jr to the Cleveland Browns for a pair of picks including a 2019 first (17) and a 3rd rounder along with former first round safety and former Michigan man Jabrill Peppers. This deal sent shockwaves through the NFL as the Giants sent their franchise player away for a mere mid-first round pick. Whether you view this trade as a complete disaster that will destroy the franchise, or better, just a huge mistake made by the New York Giants, this deal did allow the team some flexibility. The Giants would now have a greater opportunity to fill the glaring holes in their roster with two first round picks: one at #6 overall and now one at #17.
They could:
6- QB
17- DE
6- DE
17- QB
6- QB/DE
17- WR
6- QB/DE
17- OT
These are just a few of the more realistic scenarios where the Giants could dramatically improve their roster with first rounders.
But, the most pressing issue of all? On Day 1 of the draft, The Giants must address the vacant Quarterback position.
For years, the Giants have been rolling with QB Eli Manning (now 38 years of age) who has led the Giants to a 5-11 season this past season and to a mere 3-13 effort the year before. While there have been obvious flaws in the rosters of these teams including an atrocious offensive line and a sub par running game for the majority of the time, it is Eli who deserves most of the blame. He under throws receivers, misses players open on routes, and simply has began on a slow decline in recent years. This is common for many other QBs in the league reaching his age. Nonetheless, the Giants have been stubborn in moving on from the man who has brought them two Super Bowl titles in the past ten years. But, even with all that he's done for the franchise, many say it's time to move on.
Last year after an forgettable 3-13 season, the Giants were in prime position to get the QB of the future with the second pick in the draft, but opted to go with running back Saquon Barkley. While Saquon is looking like one of the best runners in the league, they refused to quit on Eli, who has been their "Achilles heel".
While I'm not here to tell you exactly which signal caller the Giants should go with in this year's draft, I will say this: it needs to happen now, it needs to be a top player in the league, and most importantly, it needs to be at number 6 overall in the draft. No more buying lottery tickets like Kyle Lauletta and Davis Webb later in the draft and I'll even go as far as to say don't wait until pick 17 to take a player like Daniel Jones. It must be at #6; it's the only way.
Both Heisman trophy winner out of University of Oklahoma's Kyler Murray and Ohio State University's Dwayne Haskins would both be qualified to take over the reins from Eli Manning and be the new face of the franchise. Many have faith that either player could bring the Giants major success in future years.
Kyler Murray has shown to be a great precision passer who can get out the pocket and be used a dangerous weapon for his legs. He led Oklahoma to a college football playoff birth nation going for 308 passing yards and 109 rushing yards on 3 total touchdowns. Throughout his season at Oklahoma, Murray completed 69% of his throws with 11.6 yards per pass attempt on 42 touchdowns. He also ran for over 1,000 yards and punched it in 12 times on the ground. The now former baseball player has an amazing arm, and while he is a short 5'10,'' he is extremely athletic and would be a great fit alongside Saquon Barkley in New York assuming he could fall down to 6. If he is there, the Giants should absolutely grab him and run.
Dwayne Haskins is the other top Quarterback the Giants must consider at #6. Haskins dominated at Ohio State University throwing for 50 touchdowns and putting 62 points on the number 1 ranked Michigan defense. Haskins showed he can succeed under the blitz at Ohio State and he checked out at 6'3'' and 231 pounds at his combine measurements. Haskins is the prototypical QB height-wise. Despite Stephen A Smith's "expert" analysts, Haskins truly isn't a QB who can run like Murray can, although he can move decently well in the pocket and throw the ball with incredible accuracy. Haskins can benefit sitting behind a veteran like Eli Manning, then coming in to "take over the job" at some point in the season.
While either would be totally fine, the Giants must take a Quarterback at #6 overall to be groomed by Eli Manning and replace him to be the QB of the future. Both Murray or Haskins could fit that role if they are available at the Giants selection. They passed on a QB last season, believing they could compete with Manning under center. However, they were very wrong. Gettleman talked about using the "Kanas City Model" with a young QB. In other words, have the vet mentor the incoming QB and then have him take the former's place. This is what the Kansas City Chiefs did with Alex Smith and Pat Mahomes.
At 17, it really depends who's on the board. If they indeed take a QB at #6 draft pick, the Giants will still have glaring needs at defensive end, right tackle, cornerback, linebacker, wide receiver and safety. They could use this pick to potentially draft Odell Beckham's replacement by taking D.K. Metcalf or A.J Brown. Or they could take the best remaining player available from those remaining positions of need.
This draft is critical for the Giants to turn their bad fortunes of the past around and get their team back on track. It all starts with the quarterback position. I said it last season and I will continue saying it until #10 isn't the QB of the Giants anymore… Gettleman must take a top quarterback with their high draft pick. The team's coach must do so before the Giants get stuck in mediocrity, landing in a danger zone that Gettleman calls and many others in the NFL fear: "QB hell." The team needs to secure the quarterback now, whether it's Haskins or Murray. Then, they can build around the QB on a cheap salary. This is one method used in the league that has had proven success. This is the course of action the Giants must take.
About the Writer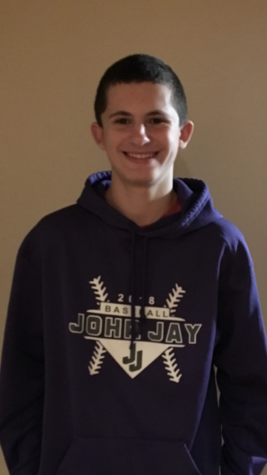 Brandon Beame, Sports Editor