Ice Hockey Wins Back to Back Section 1 Crowns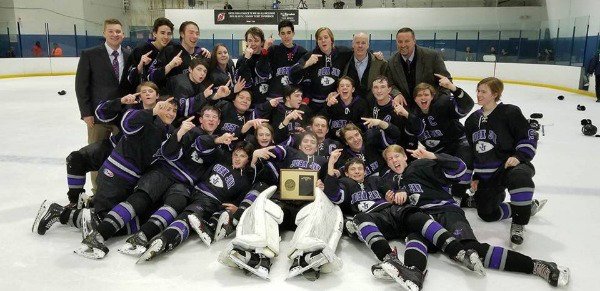 On Sunday, February 24, the Indians of John Jay defeated the Pelicans of Pelham to win the ice hockey section title for the second year in a row. They were the #4 seed heading in to the playoffs and were expected to lose to Horace Greeley in the semi finals. In the finals, they were expected to win by just 1 goal. They ended up winning by 4. The Indians were led by Tyler Wishart (2 goals), Jack Browne, (1 goal, 1 assist), Mike McKeon (1 goal), Ryan Linthicum (1 goal), Tyler Petschek (1 assist), and Anthony Protomastro (1 assist), but the most valuable player was awarded to senior goalie, Eric Sasimovich, who made an incredible 29 saves in the win.
At first, Sasimovich couldn't believe it, describing the feeling as surreal. This was his first year as the starting goalie, and he says "to have had a key role in that victory felt amazing. Personally, it felt more meaningful than anything because I knew that the upperclassmen had worked so hard to help the freshmen transition into a completely different environment and learn the program and become part of it." The seven freshmen (Doug Styles, Barrett Lunder, Tyler Wishart, Justin DeLucia, Anthony Protomastro, Mattie Wierl, and Scott MacDonald) were an integral part of the team's success this year. " I want to give credit to everyone but more specifically the lockdown defense that our team played, having experienced junior defensemen is a key and I have to thank the freshman for being a very fun and talented group of kids." The Indians have a very strong defensive led by Charlie Oestricher, Tyler Petschek, Justin DeLucia, and Ethan Jackson.
Nobody expected the Indians to win, but the team's determination, hard work, and intensity was on full display Sunday. After Mike McKeon scored in the first period, it was clear that nobody was going to stop the Indians.
John Jay will play the winner of West Seneca West and Grand Island on Saturday at 1 p.m. at the Brewster Ice Arena.