Men's Basketball Game Review: John Jay vs. Lakeland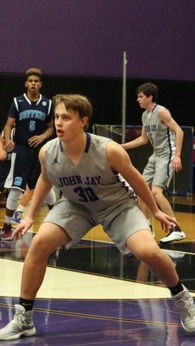 The John Jay Varsity Basketball team was able to pull out a victory vs. Lakeland in a seventy-one to forty-eight blowout on Friday, January 18. John Jay's bench played phenomenally, but their real firepower came from their starters in the form of Shane Martinsen and Bryce Ford who shot back to back to back threes in the late 2nd quarter putting a dagger in the heart of Lakeland and sealing the game for John Jay.
During warmups, one could see the confidence oozing out of Jay's players. They were coming off a win and felt good about their chances against a school in Lakeland that's not really known for its basketball prowess. Lakeland looked completely outmatched; John Jay's team looked bigger and better, and by our fans attitude you could tell they agreed.
Led by Brett Paulson, Bryce Ford, Shane Martinsen, Tim Hogan, and Charlie Murphy, John Jay was able to put up 4 unanswered points to start the game. Lakeland was stunned by the offensive outburst of John Jay leading them to change their entire game plan into shooting 3's, which for the most part they were unsuccessful. When the first quarter ended, John Jay was up 14-5.
When the second quarter began, a Lakeland fan described his team as "[having] a lot of heart and no quit," and then went on to say he wouldn't be surprised if Lakeland came back. Well, he was right because Lakeland hit two 3's in a row now making it a 1 possession game and taking some of the energy out of our fans. In response, John Jay's players came alive and by the middle of the 2nd quarter, Jay was up 26-14. The offensive outpour didn't stop there; Shane Martinsen and Bryce Ford scored back to back to back 3's making the score now 35-14. It was during this time when the game completely changed and you could tell Lakeland wasn't coming back. By the end of the half, John Jay's lead had grown to 20 points making it a 41 to 21 game.
During the 2nd half, John Jay was able to protect its lead. They added 30 points while only surrendering 27 which was good enough for the win. The final score came out to be 71-48 and in my opinion and the opinion of his teammate Mason DiFalco, "Shane Martinson was the MVP[of this game]" for his phenomenal play and stellar stat line, but overall this was a team effort and a big win for John Jay. We hope John Jay can bring this momentum into the playoffs. Go Indians!
About the Writer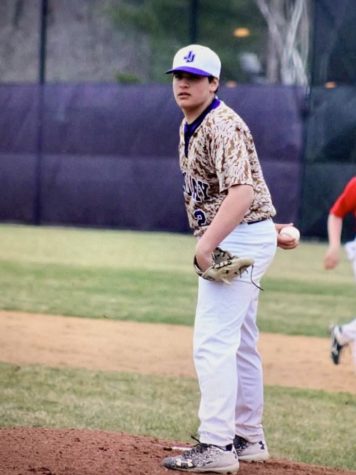 Michael Fassert, Sports Editor
Sports fan and player, food connoisseur, and friendly