JETS Business Day
I woke up bright and early on that Thursday morning. I checked my alarm clock, half asleep, and it read 6:00 A.M. Why in the world was I waking up at 6:00 A.M you might ask? Well, that day was Jet's business day at MetLife Stadium, and Ms. McLean and MC's marketing classes made the trip down to the Meadowlands to learn the business and marketing strategies of the New York Jets.
Apparently there is a lot more to the Jets then losing football games every Sunday… Who knew?
There are many different factors and departments of marketing, ticket sales, media, game planning and promotions, so many people can see the Jets play in one of the biggest sports media markets in the world: New York.
The bus ride wasn't bad on the way to MetLife as we just missed the early morning traffic and arrived to the stadium just on time. We waited outside in the cold waiting to enter, and once we finally did, we got settled in the stands where we waited for the day to start. We were all separated into groups based on our school, and we went around the stadium to learn about the behind the scenes work done in MetLife Stadium.
Our first stop was to a Penn State alumni who was in charge of game promoting, offering special gifts to season ticket holders and making sure the fans were satisfied with the team, which is probably pretty difficult for the Jets. She talked about how she rose through the ranks, starting by interning with different teams at Penn State, marketing ideas for each team. Interning is a big theme I took out from this day. She also had a big part in the Penn State white outs at football games, which is still something Penn State does during home games during their football games. I found this very impressive.
We then met a man who was in charge of planning in-stadium events such as parties and other entertainment venues that people pay for to host their event at the stadium. Think of this job like Angela and Phyllis' party planning committee in the "Office," but MetLife stadium style. He plans parties to make them the best they possibly could be. He makes sure everyone who pays to have the space for a night or a certain day has a great time and worth the pay. A pretty cool job, if you ask me.
We went around to the stadium, including both the Jets and opposing locker rooms, and special boxes for viewing the game, and finally, we made our way onto the field itself! We learned about several people's personal stories and what they do for the Jets daily. While in the Jets locker room, anyone who wasn't wearing Jets gear had to stand in the front while a man lectured them about wearing the wrong gear. Good thing I didn't wear my Giants sweatshirt that day… The people are very serious and passionate about their jobs and work very hard to be the best they can be.
Everyone who we talked to all had one thing in common: they all rose up the ranks and did their due diligence to get to where they are today. Most started in internships and working at low or no paying jobs. They then worked their way up and earned the impressive jobs they got today. The woman who does the player and coach interviews for the Jets was stressing to us the importance of us being the next generation to drive the workforce. And sometimes spending time working and studying on a Friday night instead of hanging out with your friends can come a long way. She stressed that employers really look for hard workers. People who are on time and have a good attitude will have the most success. And, as a result of all this hard work, all these people have jobs that they like and get paid a good amount for. One lady described her job with the Jets by saying it didn't even feel like a job because of how fun it was. With some hard work and drive, you can get a job that you really like and get a good pay. This was a main takeaway from the field trip.
So much goes into a football game in so many departments. It's not just the men making millions who take the field each Sunday. So, next time you put off your responsibilities, head over to Buffalo Wild Wings on a Sunday afternoon, think about all the people who contribute and market the games so that people like you can sit, eat your wings and watch the great game of football!
About the Contributor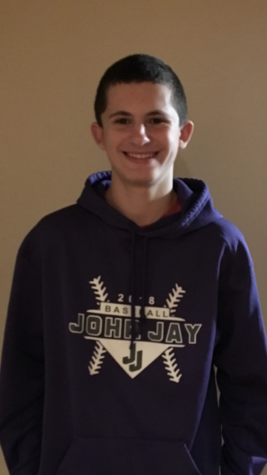 Brandon Beame, Sports Editor