Colin Kaepernick Being Featured in Nike's "Just Do It" Campaign
Colin Kaepernick took the NFL by storm in his first full season of play, quarterbacking the San Francisco 49ers to the super bowl in the 2012-2013 season. He replaced long time quarterback Alex Smith and ran away with the starting job driving Smith, the long time 49er, out. He was one win away from becoming a super bowl champion. He looked like he had it all. Franchise QB on a successful and respectable team, fresh off an appearance on the games biggest stange… and headed for a big paycheck down the road. 5 years later, he is without a job in the NFL, despite his ability to make plays with his arm and his legs, and their is no NFL interest whatsoever from any teams in the league. He hasn't played a game of football in 2 years. Very subpar QBs like Josh Mccown, Tom Savage, Mike Glennon, Trevor Siemian and Jay Cutler all had starting jobs on teams in the league in 2017, despite Kaepernick's better stats, more touchdowns thrown and the fact that he has made it farther into the postseason than any of the other quarterbacks. So the question is… what happened?
It all started back in 2016 in August during Kaepernick's preseason debut when he first started to protest. Before each game played in the NFL, all players rise for the playing of the U.S. national anthem. However, Kaepernick had different ideas… When the voice on the loudspeaker told everyone to please rise for our national anthem, Kaepernick took a knee protesting racial injustice and police brutality in our country. He was able to get a number of other players to join him throughout the season. This shocked both the NFL and political world. Kaepernick talked the press after saying, "I am not going to stand up to show pride in a flag for a country that oppresses black people and people of colour," Kaepernick told NFL Network's Steve Wyche. "To me, this is bigger than football and it would be selfish on my part to look the other way. There are bodies in the street and people getting paid leave and getting away with murder." President Trump, former President Obama and commissioner Roger Goodell all had something to say on this issue. It got a lot of national attention. But however, Kaepernick's professional football career was spiraling out of control. After he opted out of his contract with San Fran in March of 2017, he never found another NFL home. Coincidence? I think not…
Nike is an American multinational corporation that is engaged in the design, development, manufacturing, and worldwide marketing and sales of different shoes, apparel, equipment and accessories. Nike launched its first "Just Do It" campaign in 1988. Nike was trying to reverse its declining sales and expand from just track and field.
For the 30th anniversary of the "Just Do It" campaign, Nike decided to put Colin Kaepernick as the face of the campaign under the slogan, "Believe in something, even if it means sacrificing everything." The former signal caller has been under contract with Nike since 2011, but it was expiring when the company agreed to this new extension. But the real question is this: Why would Nike feature an individual as controversial as Kaepernick, and a quarterback who hasn't played one snap in years? It isn't like Nike didn't have other options… So, the question becomes, why Kaepernick? The New Yorker seems to think, "In 1988, Nike promoted the image of a solitary senior citizen running on a bridge not, presumably, because it was looking to break into the octogenarian market, but because it was hoping to sell inspiration. The company seems to have aligned itself with Kaepernick for the same reason. While some people rage that yet again in America an ingrate-rebel has been rewarded, there is another narrative that Kaepernick conjures—that of an individual, driven by conscience, fighting a lonely crusade against forces more powerful than he is." They believe Kaepernick is a man who can inspire people with his outspoken views and believes and the risks he was willing to take. So even though Kaepernick isn't currently playing in the NFL today and may never find his way onto a team again, Nike made a very bold move taking a stand on this social issue in America today.
However, especially with the major political divide in our country today, you can very much expect Americans to be divided from people who support him versus people who don't. His supporters liked the Nike ad praising the company and for its decision to feature Kaepernick, but there was a wave of negative reaction. People took to Twitter to show videos and images of them burning their Nike equipment. I polled 75 random people asking them weather there opinion of Nike has changed since they announced their plans with Kaepernick. 31 people said yes, whereas 44 people said no. So, while more people said their opinions haven't changed of Nike, there were definitely a respectable amount of people who said their opinions have changed. Which is not something you really aim for as a company when deciding who you want to represent your company considering 41% of the people polled said there opinions have changed about how they view Nike. But Nike did it and there decision looks to be paying off. There stock was at record highs after releasing the Kaepernick ad. A CNBC headline said, "Nike's Kaepernick campaign 'a stroke of genius,' says analyst upgrading stock to buy." They were willing to take the risk and accept all the criticism that came their way. Even though people are divided, this campaign has been helping Nike. Nike took a stand when the NFL turned its back on Kaepernick. Nike has been very successful in the past and rolled the dice on one of the most controversial players in NFL history… and it worked.
About the Writer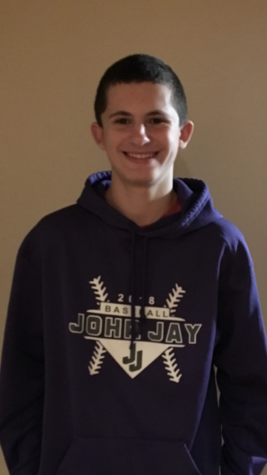 Brandon Beame, Sports Editor