Philadelphia Eagles Win the 52nd Annual Super Bowl!
Hang on for a minute...we're trying to find some more stories you might like.
The Philadelphia Eagles beat the New England Patriots 41-33 last night, February 5th, 2018, in the 52nd Annual Super Bowl. This is the Philadelphia Eagles' first Super Bowl win in the team's history, adding to the excitement that pulsed through the crowd late last night. CBS Sports reports that this the Super Bowl was one of the most unforgettable Super Bowls in history. We saw a Patriots fourth-quarter comeback, but ultimately it was the Eagles who scored the tough touchdowns, tacked on a field goal, and derived a huge strip sack of Tom Brady to push ahead.
The Super Bowl opened with a national anthem sung by Pink, who hit almost every note while still battling the flu. Justin Timberlake got the fans up and moving during his upbeat, fun halftime show. He also weaved in a Prince tribute with some of his most famous hits. Sydney Rappa, a 12th grade John Jay student, said it was her "favorite halftime show because [she] liked how he made it entertaining with the lighting and his dancing; it was a very visual performance."
According to CBS News, "The Patriots were 4-and-a-half point favorites to beat the Eagles on Sunday. If they'd won, they would have walked away with the franchise's sixth Super Bowl championship." Even though the Patriots suffered a tough loss, they still have those five championships under their belt. The Eagles' quarterback Nick Foles threw for 373 yards and three touchdowns and was named Most Valuable Player of the Super Bowl, as well.
As a huge NY Giants fan, I was rooting for the New England Patriots. The Patriots lost the Superbowl twice to the NY Giants, but now the Eagles are on top and pose a new threat to the Giants. However, in retrospect, I guess the Patriots did not need another Super Bowl win– after all, they have been in 10 super bowls.
About the Writer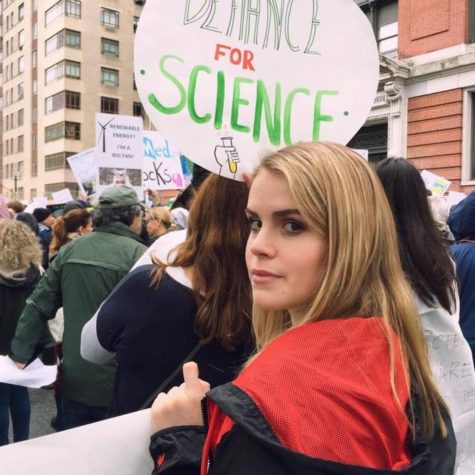 Laragh Cronin, Editor
If lost, can be found With Her