The John Jay Indians – Respectful or Racist?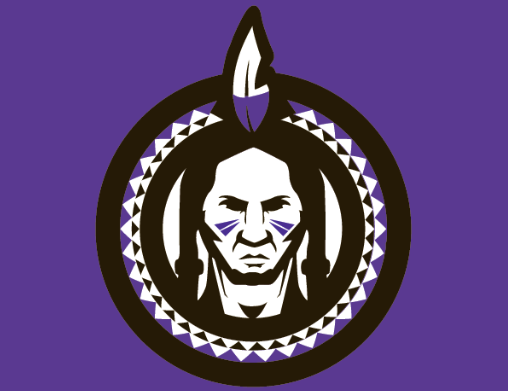 Hang on for a minute...we're trying to find some more stories you might like.
Chief Katonah, sachem of the Ramapough Nation and main proprietor of the lands around what is now Bedford, was known as a peaceful man. When selling parcels of land to colonists in the late 17th century, the Chief asked only for wampum and blankets in return. Abiding by the traditional Native American belief that land was for everybody's use, Katonah sold the same pieces of land multiple times to prevent its misuse. Although the hamlet, and eventually our high school's mascot, was named after Chief Katonah and his tribe in honor of their calm natures and peace-loving attitudes, modern representations of the sachem and his tribe– found on our athletic attire, gymnasium floor, and even the heads of student fans– have distorted the history of our district's Native American roots.
Many students believe that the John Jay mascot is nothing but a harmless tribute to the Native Americans that founded and traded our land. These students argue that to get rid of the Indian mascot is to get rid of our town and school district's very roots, to abandon pieces of our history. Others believe that we must change the mascot as soon as possible, as the mascot racistly misrepresents Native Americans as ruthless barbarians inseparable from their lances and tomahawks. In the past few weeks, a school-wide debate has developed, centered around a very controversial question: does the John Jay Indian mascot represent reverence for Native Americans, or does it actually reveal our implicitly racist attitudes toward Native American culture?
Although evidence can support both sides of this argument, the problems with our mascot really boils down to just one issue: our district's lack of consciousness for our Native American history. Inadequate class time, especially in our high school, is set aside for students in our school district to learn about historical figures like Chief Katonah or to embrace our Native American roots. United States history, along with Central and Southern American history, is most often taught from the colonist's perspective, a perspective that rarely holds Native Americans to be any more than uncivilized savages. What we don't focus on in school is the fact that when Henry Hudson and Giovanni da Verrazzano stepped foot on what is now the Hudson Valley, Native Americans had already lived on this land for more than 3,000 years.
The result of this selective education? The inaccurate representation and ethnic stereotyping of an entire culture. Redskins, Indians, and Braves are names of well-regarded sports teams that continue to profit off of these racist nicknames, given to Native Americans by superior white colonists. Instead of wampum or animal fur, the Indian mascot is found on John Jay merchandise holding spearheads and wearing aggressive facial expressions. At John Jay football and lacrosse games, the student body's "Tribe Leader" is chosen to wear a draping feather headdress; the same headdress that Native Americans continue to regard as an "initiation to a boy's adulthood," where each and every feather must be earned by accomplishing brave or heroic acts.
Ignorance of Native American ways of life has allowed entire counties, like Westchester, to either categorize Native Americans solely as savages or completely neglect the existence of American Indian culture altogether. Not to mention that while it was the Wappinger Tribe that founded, cherished, and peacefully traded our land for thousands of years, it is now mostly wealthy, white homeowners of colonist descent that populate Westchester County while barely one percent of pure American Indians are found living amongst them.
If we cannot educate ourselves on the entire history of our Native American foundations, and if we cannot help ourselves from misrepresenting our Native American roots, we cannot have the John Jay Indians as our mascot. It is one thing to honor Indians for their strength, bravery, and dedication as warriors; it is another to completely base our representations of Indians on these traits and to neglect the calm and peacekeeping attitudes of our founders that gave us the beautiful home that we have today.
Note: John Jay High School will be holding assemblies for the entire school on Tuesday, December 12th to allow our students to gain information and create their own opinions on this issue. This will hopefully be followed by class discussions and a public referendum in the near future.