The Incredible Migration of Songbirds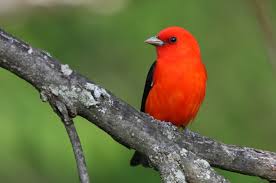 Hang on for a minute...we're trying to find some more stories you might like.
In June of 2017, researchers from the Cornell Lab of Ornithology in Ithaca, NY caught a Yellow Warbler in a banding station; it was designed to monitor bird populations. But this, seemingly typical, yellow bird was concealing a surprise. The Yellow Warbler already had a band on its leg. The number on the band identified it as being caught by researchers several months ago- but on a coffee farm in Colombia, 2,300 miles away. And as it was an adult, it had completed the same journey at least once before, if not longer. Why must a bird weighing no more than two US quarters make the journey annually from two places so distant?
Most people are familiar with the comings and goings of geese and robins, but they are not the only birds that migrate. In fact, those two species are hardly reliable indicators of migratory travels at all, as both species have large year-round populations and may make regular movements throughout the year.
In the spring and fall, there are birds occupying every meadow, park, or woodlot that might have just traveled thousands of miles, pouring out of the tropics in a frantic race to occupy the best breeding territories in North America, or in the fall making their way back towards their tropical winter homes. Most small birds fly during the night, to avoid predators and to take advantage of better weather conditions.
There are dozens of species of songbirds like warblers, vireos, tanagers and thrushes that are migrants in our area. Scarlet tanagers, brilliantly red birds with a scratchy song, breed in Mountain Lakes Park. Over John Jay High School flies the Chimney Swift, or the "cigar with wings", that spends the winter among the toucans and jaguars of the Amazon Basin. Behind our school, American Redstarts and Red-eyed Vireos breed, while Barn Swallows fly over the field, all having just completed their annual journey from Central America. Surprisingly, it is probably easiest to see large numbers of migratory birds in urban parks like Central Park, where birds passing over the city take advantage of the green strip to refuel. Even in our backyards, some of the morning voices we wake up to in the spring might have just landed after a night of flying in the dark, navigating by the stars. Their inner sense of direction allows them to come back to the same place, year after year. According to the Cornell Lab of Ornithology, a radar detected twelve million birds passing through Cape Cod on a single autumn night, and recent data from weather radars shows that in the fall, there are over four billion birds migrating south from Canada every year.    
The Blackpoll Warbler makes perhaps the most mind-boggling migration of all. According to the National Audubon Society, moving up from South and Central America in the spring, they breed in the boreal forest, a large ecosystem stretching from Maine to Alaska. But this tiny, inconspicuous bird chooses a more unconventional way home- it flies 2,400 miles over open ocean, in three days. Imagine a bird weighing less than the weight of two quarters embarking on a non-stop flight over the cold and stormy ocean. And yet, they pull through and have made the same journey for thousands of years.
People have always been perplexed by bird migration. Ancient scholars often took note of this phenomenon and came up with outlandish theories to explain it. Some of the theories proposed were that they turned into mice or slept at the bottom of the sea! However, it was not until the nineteenth century when this mystery was finally solved, when a White Stork was found in Germany, having survived being struck in the neck from a spear made in Central Africa.
So, next time you encounter an unusual bird, show it some respect. It probably flew quite a distance to be here.
Photo Credits- Jake Dingel
https://ebird.org/content/pa/wp-content/uploads/sites/29/SCTA_male_Dingel.jpg
Sources-
Cornell Lab of Ornithology
National Audubon Society