Steve Martin and Martin Short in An Evening You Will Forget for the Rest of Your Life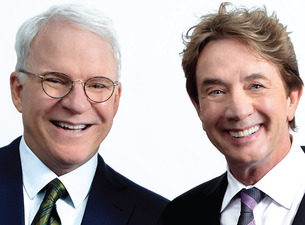 Even though the mega famous duo Steve Martin and Martin Short have been performing
stand up for a generation, their craft remains relevant. In their newest comedy special, entitled
An Evening You will Forget for the Rest of Your Life on Netflix, the pair successfully preserves
their characteristic brand of irreverent comedic antics, making fun of everything from political
figures to each other and including stand up bits, roasts, stories, and musical numbers.
The two have been close friends since the release of The Three Amigos in the mid-1980s,
and it shows in the special. Throughout the 72-minute program, the two share a strong
camaraderie when they throw barbs at each other (Martin to Short: "You know what I love about
touring with Marty Short? No paparazzi." Short to Martin: "It's like I'm being haunted… You
look like Anderson Cooper froze to death on New Years Eve.") They both swap stories and
blunders from their lengthy experiences in showbiz, and they both end up laughing with the
crowd at their own jokes. Viewers realize the validity of their friendship; it's not just some
superficial Hollywood ploy. Moreover, both men upend these Hollywood niceties throughout
their act.
During the special, both comedians are able to showcase their individuality. Steve
Martin utilizes his "dignified, better-than-you, yet idiotic" persona to rib his contemporary and
tell his own jokes. Of course, it would not be a Steve Martin stand up special without Steve
playing a few numbers on his banjo, which he does, backed by the Steep Canyon Rangers.
Martin Short is brash and excessive and illustrates this through his quick movements and flashy
musical numbers in his signature theatrical way. He quickly shifts between iconic characters (a
hilarious Jiminy Glick), impressions, and stories of his own life, just as he has done many times
before to the delight of the crowd. Both personas, while appearing to be polar opposites, end up
fusing together in a symbiosis that strangely enough works incredibly well.
An Evening You will Forget is able to play all the old hits while still appearing fresh in a
sea of Netflix specials from younger, edgier comics. Despite this competitive atmosphere, Steve
and Martin pay no attention to it and simply perform what they know, using decades of comedic
flops and hits to hone their craft. The show exudes a relaxed tempo as the duo takes the audience
back to a simpler yet more idiotic era of variety show-style comedy, one that was founded by the
lengthy careers of Steve Martin and Martin Short themselves.